The holiday season is one of the most exciting times of the year for food, whether cooking at home or dining out. The culinary experts at Marukan help home cooks and professionals look their best whether entertaining, enjoying family meals or dining out, by keeping an eye on food trends that add pizazz to any event, large or intimate.
For many, last year brought different types of celebrations as they stayed closer to home due to the pandemic. With quiet optimism, many are venturing out to be with family and friends this year, while others are still opting for more intimate home gatherings. No matter the scenario, Marukan's line of premium vinegar products adds excitement and balance to this year's food trends.
A Little Ethnic Influence
In times of concern or chaos, one trend that stays consistent is a return to comfort foods. The difference we're seeing this year is an expansion into comfort foods from other cultures as we become a more blended nation. Ethnic comfort foods are a great addition to traditional American favorites like turkey, cranberry dressing, and green-bean casseroles. This could be a Sweet and Sour Meatball Appetizer made with Marukan Seasoned Gourmet Rice Vinegar or Sauteed Duck with Raspberry Gastrique with our Genuine Brewed Rice Vinegar. If you're really looking to spice things up, take an appetizer like chicken wings you'd normally serve at a tailgating event and with our Organic Rice Vinegar, create Asian Baked BBQ Chicken Wings that bring a tangy spicy flavor to this beloved treat.

Comfort with a Twist
If it's more traditional American comfort foods you seek, a hot trend this year is new takes on traditional classics. For example, Seasoned Gourmet Rice Vinegar is perfect for boosting the flavor of Roasted Root Vegetables, while one of the hottest vinegar trends, Apple Cider Vinegar, will take a Waldorf Salad to delicious new heights. Even Butternut Squash Soup gets a makeover with Seasoned Gourmet Rice Vinegar. The culinarians at Marukan have learned the art of balancing the acidity and flavors in a dish. Vinegars can add tangy, tart flavor, or smooth the earthiness of squash and sweet potatoes. If you're really looking to put a unique spin on a classic, create delicious Fried Turkey made with Genuine Brewed Rice Vinegar—a mashup with Southern and Asian influences.
The right vinegar can add just the right touch to, yes, even desserts, like a Sweet and Tangy Pie made with Genuine Brewed Rice Vinegar. And don't forget to toast your family and friends with a Marukan signature Cucumber, Blueberry and Soju Shrub Cocktail made with Genuine Brewed Rice Vinegar.

A Meal to Meet Your Needs
The holidays are an exciting time for restaurants and retail grocers as well. If you prefer to let someone else do the cooking, restaurants are partnering with a variety of delivery services, and no one's the wiser if you put the food in your own serving dishes. The same is true of many grocers, who offer a variety of meal kits or complete dishes that you can order for pick-up or delivery. Most restaurants offer online menus so you can find dishes like those mentioned above. Grocers often partner with programs like Instacart so you can shop for ingredients using your recipe as a guide to ensure you have everything you need.
Marukan Has Your Back with Centuries of Expertise
A family brand with global distribution and stature, Marukan has been helping cooks of all kinds with its line of crafted, premium rice vinegars since 1649. The culinary experts on staff understand how different vinegars enhance dishes by muting or enhancing flavors naturally. They have known for centuries that vinegar is an indispensable ingredient for all types of dishes, and even beverages, because of its innate flavor balancing qualities.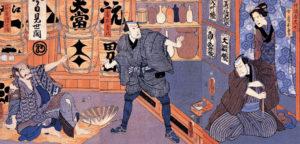 Marukan offers a variety of recipes that are created for every occasion and its products are Non-GMO Project Verified1, Vegan Certified2, Kosher3, and naturally gluten and allergen-free. The brand also offers Certified Organic4 rice vinegar and apple cider vinegar options.
Marukan for Professionals
For restaurateurs and grocery retailers, Marukan uses its vast knowledge of flavor enhancement to help foodservice and retail-grocery professionals understand the power of vinegar on the menu or on the shelf. Vinegars add variety and balance to many dishes and Marukan has the expertise and reputation that make it a product to offer customers with pride.
To find the recipes in this article and learn more about Marukan products for retail grocery and foodservice operations, visit our Marukan products and recipes for every occasion.
Non-GMO Project Verified, 11/18/2020
Vegan Certified, Natural Food Certifiers 12/20/20
Star-K Kosher Certified, 2/18/2020
Certified Organic by Oregon Tilth under USDA Organic Regulations 8150001232, 8/6/2002