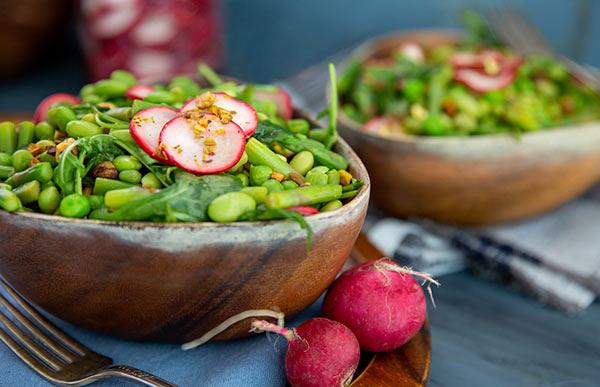 30 minutes OR LESS
Marukan Spring Pea and Asparagus Salad
This delicious, vibrant salad is filled with fresh, crisp veggies topped with pickled radishes.
Radishes, sliced very thinly
Asparagus, trimmed and cut into 1-inch pieces
Gluten-Free Soy Sauce or Tamari
Frozen Edamame, thawed and at room temperature
Frozen Peas, thawed and at room temperature
Freshly Ground Black Pepper
Shelled, Roasted and Salted Pistachios, chopped
INSTRUCTIONS
Prepare the pickled radishes:
Combine vinegar, water, sugar, and salt in a small saucepan. Bring to a boil and stir to dissolve sugar and salt. Place radishes in a small bowl. Pour liquid over and let sit at room temperature to cool.
Prepare the salad:
Prepare a bowl of ice water. Bring a pot of salted water to a boil. Add the asparagus and blanch for 2 minutes. Drain and submerge completely in the ice water. Drain again and dry with a kitchen towel.
In a small jar, combine the oil, vinegar, sesame oil, honey, and soy sauce. Shake well.
Place the asparagus in a serving bowl along with the edamame and peas. Add drained radishes. Pour the dressing over and toss to coat. Add the arugula and toss again. Season to taste with salt and pepper. Add the pistachios and serve.