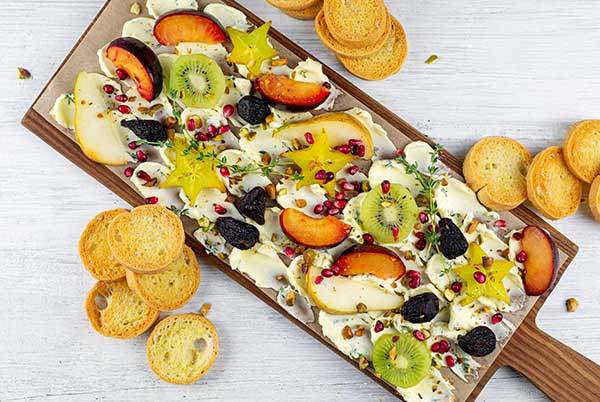 1 Hour OR LESS
Marukan Goat Cheese Butter Board with Pickled Fruit
Brighten up your Holiday Menu with this Sweet and Tangy Appetizer!
Each Assorted Fruit such as Pears, Kiwi, Plums, Starfruit, Persimmons, Apples
Goat Cheese Butter Board:
Unsalted Butter, at room temperature
Soft Goat Cheese, at room temperature
INSTRUCTIONS
Pickled Fruit:
Wash and slice fruit.  
Heat vinegar, water, and sugar in a saucepan, stirring until the sugar has dissolved. Into small Mason jars, add cloves, cinnamon, star anise, and ginger. Pack the fruit into the jars keeping them separated by type. Pour the brine over the fruit, let cool, then close the jars, and refrigerate. Can be kept in the refrigerator for up to two weeks. 
Goat Cheese Butter Board:
Combine the butter, goat cheese, and thyme, stirring until fully combined. Using a butter knife or off set spatula, spread the mixture onto a serving board or platter.  
Add drained pickled fruit to platter, sprinkle on pomegranate seeds and pistachios, and garnish with thyme sprigs. Serve with gluten-free crostini or crackers.