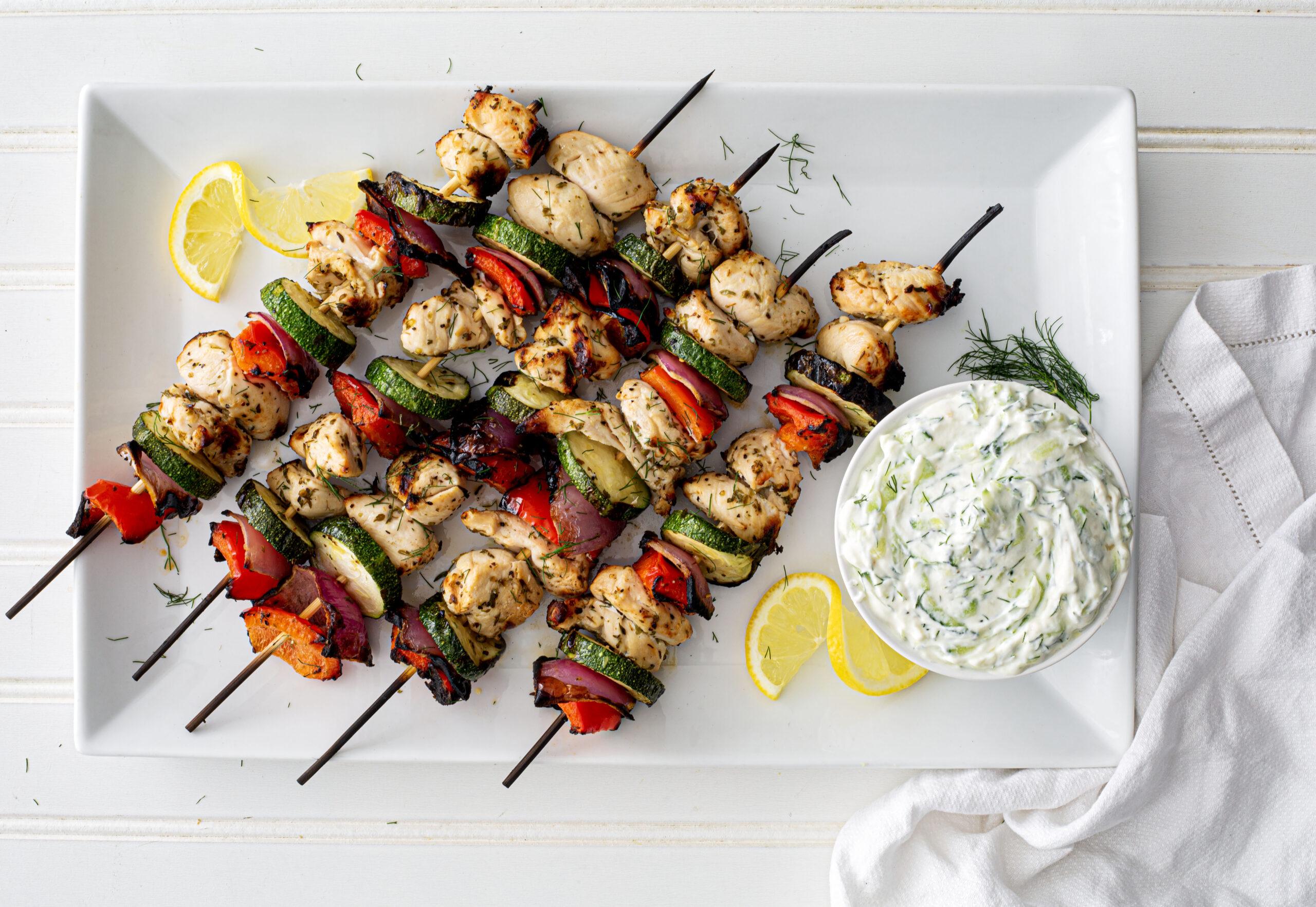 45 minutes OR LESS
Marukan Chicken Skewers with Tzatziki Sauce
These Greek-inspired chicken skewers can be a tasty entrée or an appetizer.
Boneless, Skinless Chicken Breasts, cut into 1 1/4 inch cubes
Freshly Ground Black Pepper
Large Red Bell Peppers, diced into 1 1/4 inch piecers
Small Zucchini, sliced into rounds 1/2 inch thick
Large Red Onion, cut into 1 1/4 inch wedges
Tzatziki Sauce, recipe below
Fresh Dill, finely chopped
Freshly Ground Black Pepper
INSTRUCTIONS
In a bowl whisk together ¼ cup olive oil, lemon juice, vinegar, garlic, 2 teaspoons oregano, 1 teaspoon basil, the thyme, 1 teaspoon salt, and ½ teaspoon pepper.
Place chicken in a large resealable bag, pour olive oil mixture over chicken and press chicken into marinade. Seal bag and refrigerate 45 minutes to 2 hours. If using wooden skewers soak them in water for 30 minutes.
Place vegetables in a mixing bowl, add 2 tablespoons olive oil, remaining oregano, basil and a large pinch of salt and pepper.
Preheat grill to medium-high heat. Thread a red bell pepper, red onion, zucchini, 2 chicken pieces on to skewer and repeat twice.
Brush grill grates vegetable oil, place skewers on grill, close lid, and grill until chicken registers 165°F in center on an instant read thermometer, about 8-12 minutes, rotating once halfway through cooking. Serve with tzatziki sauce.
Tzatziki Sauce
Place grated cucumber in a colander. Add a pinch of salt and 1 tablespoon of vinegar. Let it rest to release its liquids for 15 minutes.
In a mixing bowl, combine the yogurt, minced garlic clove, 2 tablespoons vinegar, dill, and olive oil. Mix well. Season to taste with salt and pepper.
Place the cucumber in a tea towel and squeeze to release all remaining liquid. Add to the yogurt mix. Stir well. Cover and refrigerate until serving.