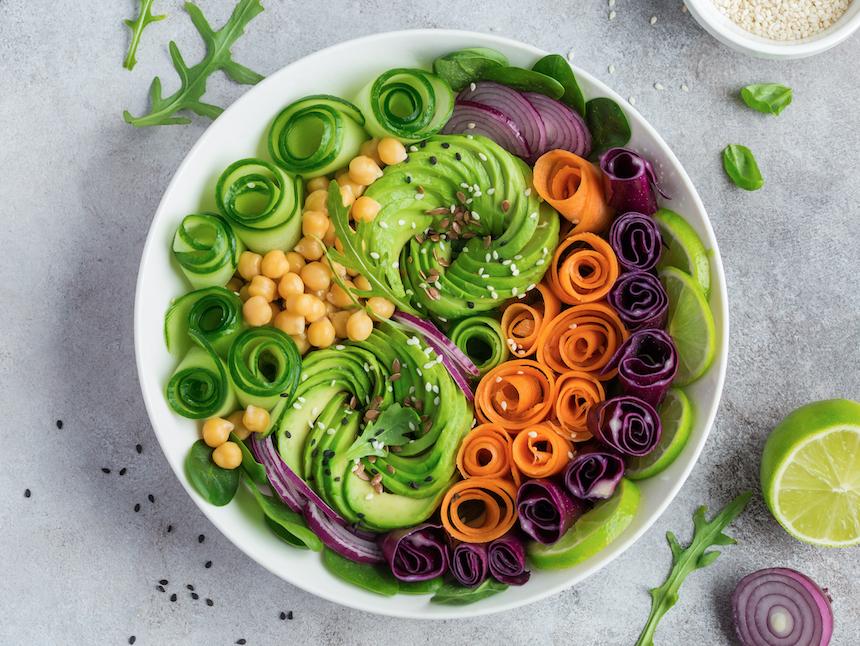 30 minutes OR LESS
Marukan Avocado, Chickpea and Vegetable Salad
This vegan salad delivers a rainbow of flavors!
Cucumber (sliced lengthwise)
Carrot (peeled and sliced lengthwise)
Purple Cabbage (sliced in long strips)
15 oz. Can of Chickpeas (drained)
Sweet and Tangy Vinaigrette
INSTRUCTIONS
Peel, thinly slice and fan avocado into two spiral shapes. Use a vegetable peeler to make long, thin ribbons of cucumber and carrot, then roll cucumber and carrot ribbons into small rose shapes. Cut long ribbons of purple cabbage and roll into small rose shapes. Peel and cut red onion into thin slices. Cut a handful of thin slices of lime. Drain the Chickpeas. Place all vegetables, chickpeas and avocados in a bowl and organize them to your desired look. Garnish with sesame seeds.
Vinaigrette: Combine all of the vinaigrette ingredients in a mason jar or bowl and mix thoroughly and drizzle over the top of the salad.