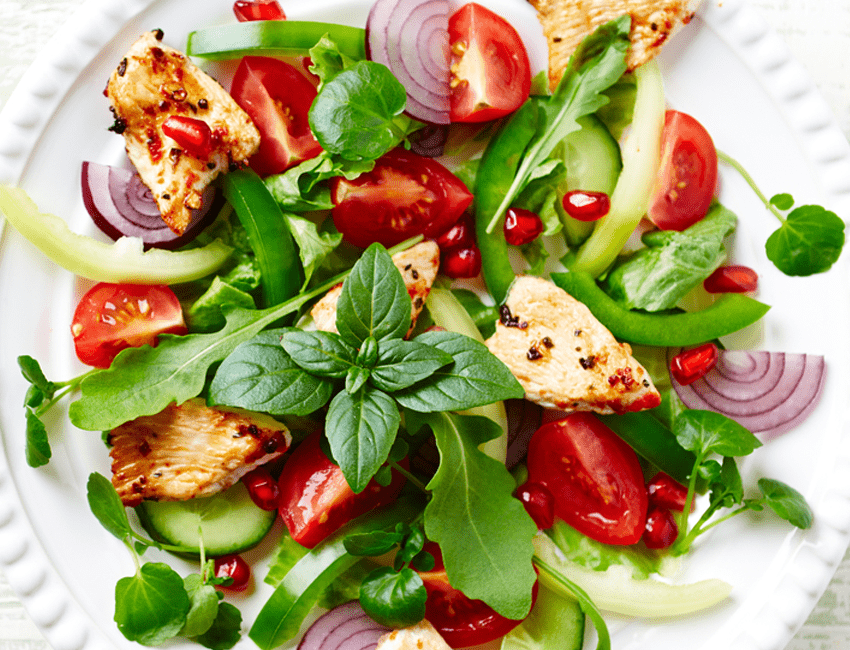 45 minutes OR LESS
Marukan Chicken Arugula Salad
Healthier eating is a breeze when you've got a super yummy salad recipe like this one!
Skinless, boneless chicken breasts
Cherry Tomatoes, quartered
Green Bell Pepper, sliced thin
INSTRUCTIONS
For Chicken:
Slice Chicken breasts in half to make them thinner. Then in a medium bowl or resealable bag, combine the chicken, olive oil, garlic, rice vinegar, salt, pepper and store in refrigerator for at least 30 minutes. Heat a large pan to medium heat and sauté until tender and cooked through (about 6 minutes per side). Then remove from pan, let cool and slice into bite sized pieces.
For Dressing:
In a small bowl or mason jar combine the rice vinegar, olive oil, mustard powder and sugar. Then whisk it all together. Add salt and pepper to taste if desired.
For Salad:
Combine the arugula, cherry tomatoes, red onion, pomegranate seeds, cucumber and green bell pepper into a large bowl. Top with chicken, drizzle with dressing, toss and garnish with basil. Enjoy!