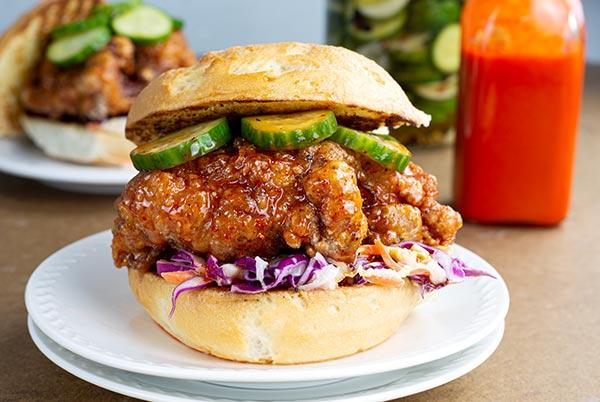 45 minutes OR LESS
Marukan Hot Chicken Sandwich
Turn up the heat with this spicy and sweet Nashville Hot Chicken Sandwich!
Homemade Refrigerator Pickles:
Seedless Cucumber, sliced in 1/4 inch coins
Large Sprigs Fresh Dill, roughly chopped
Crushed Red Pepper Flakes
Large Garlic Cloves, smashed
Boneless Skinless Chicken Thighs
Gluten-Free Hamburger Buns
INSTRUCTIONS
Homemade Refrigerator Pickles:
Layer cucumbers, dill, garlic, and bay leaf into a quart mason jar.
Combine rest of the ingredients in liquid measuring cup and stir until the sugar and salt dissolves. Let cool. Pour over the cucumbers. Secure lid of jar and refrigerate for at least 1 day.
Can be stored, covered, in the refrigerator for 1 week.
Easy Hot Sauce:
Wearing gloves, slice off the tops of the chilies.
For a hotter hot sauce, slice the chilies into 1-inch pieces, leaving the seeds in.  For milder hot sauce, slice chilies in half lengthwise, scrape out the seeds, and cut into 1–2 inch pieces. You can also do a combination of seeds and no seeds.
Place chilies in a small saucepan with the garlic, salt, and vinegar. Bring to a boil, cover pan, reduce heat, and simmer for 20 minutes or until the peppers and garlic are very soft.
Pour mixture into high-speed blender and blend, starting on low and gradually increasing the speed to high, until completely smooth, about 2 minutes, scraping down the sides of the jar as needed.
Pour mixture though a funnel into hot sauce bottles or pour into small mason jars. Let cool completely. Cover bottles or jars. Store covered, in the refrigerator.
Slaw:
Combine and refrigerate for 1 hour before serving.
Hot Honey:
Heat honey and hot sauce together over low heat, stirring, until combined.
Chicken:
Season chicken thighs with salt and pepper. Let sit while preparing the brine and dredge.
Brine:
Combine milk and vinegar in a mixing bowl. Let sit for 5 minutes. Whisk in eggs and hot sauce.
Dredge:
Combine in a different mixing bowl.
Preparing the Sandwiches:
Place a wire rack over a baking sheet.
Dip the chicken into the dredge, then into the brine, then back into the dredge, shaking off any excess.
Fill a heavy bottomed or cast iron pot with enough vegetable oil to come up about 1½ inches. Heat to 350°F.
Fry, turning every minute, until golden brown and chicken reaches an internal temperature of 160-165°F. About 6-7 minutes. Place on cleaned wire rack.  Brush with hot honey.
Lightly toast 4 gluten-free hamburger buns.
Place slaw on the bottom bun. Top with chicken, then homemade pickles, and finally, top bun.