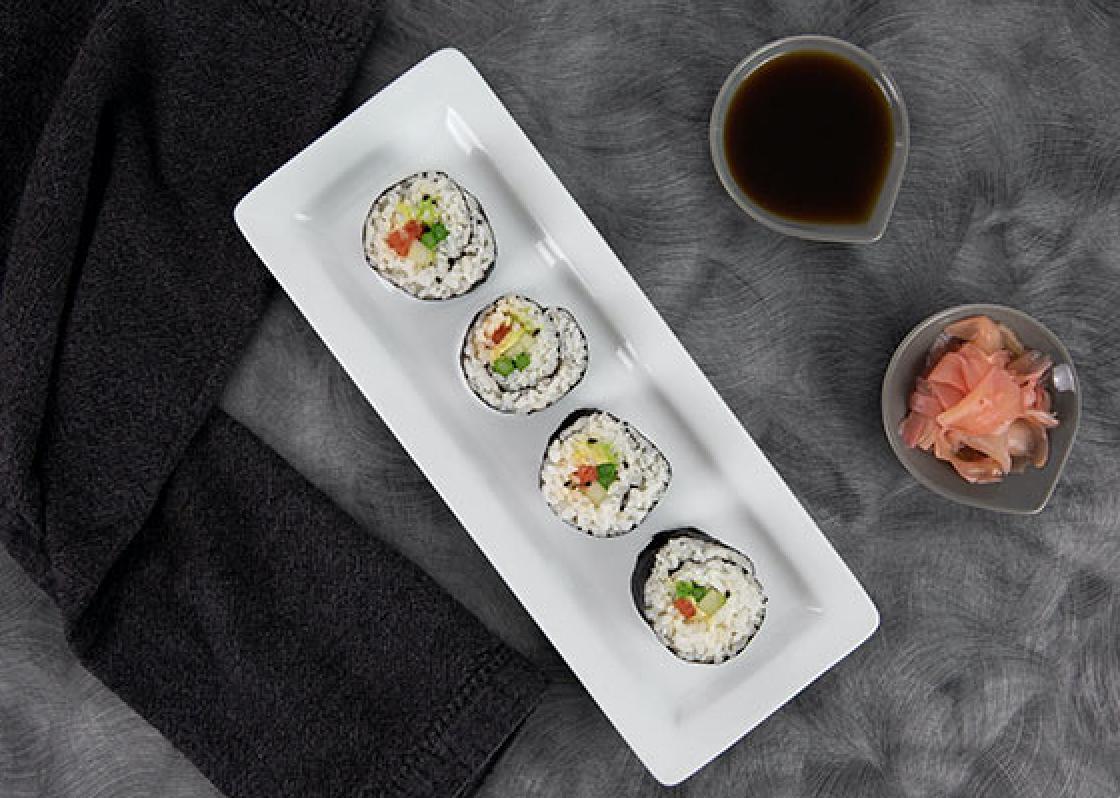 45 minutes OR LESS
Marukan Vegetarian Sushi Rolls
Making sushi at home is super easy and our Marukan Yuzu Ponzu is the perfect dipping sauce for these tasty sushi rolls.
6 Tbsp, plus more for serving
English Cucumber, sliced into matchsticks
INSTRUCTIONS
Combine cooked sushi rice with seasoned rice vinegar and let cool.
Bring a pot of water to a boil. Have a bowl of ice water ready by the stove. Cut a small X in the bottom of the tomatoes. Add the tomatoes to the boiling water and blanch for 60-90 seconds or until the skin starts to split. Remove with a slotted spoon and transfer to the ice water. Add the asparagus to the boiling water and blanch for about 3 minutes or until bright green and crisp tender. Transfer to the ice water.
Peel the tomatoes, cut in half lengthwise, and remove the seeds. Slice into thin strips and place in a small bowl. Add 6 tablespoons of the Yuzu Ponzu and gently toss to coat. Let marinate for 30 minutes. Combine the sesame seeds in a small bowl.
Place a piece of plastic wrap on a bamboo mat or kitchen towel. For each roll, place one sheet of nori down and use wet hands to spread an even layer of sushi rice on the nori and sprinkle with some sesame seeds. Arrange tomato slices, asparagus, cucumber, and avocado in a tight pile on the lower third of the sheet. Roll away from you, tucking in the vegetables as you roll. Cut the sushi into 4-6 pieces. Serve with extra ponzu sauce.
Makes 8 rolls