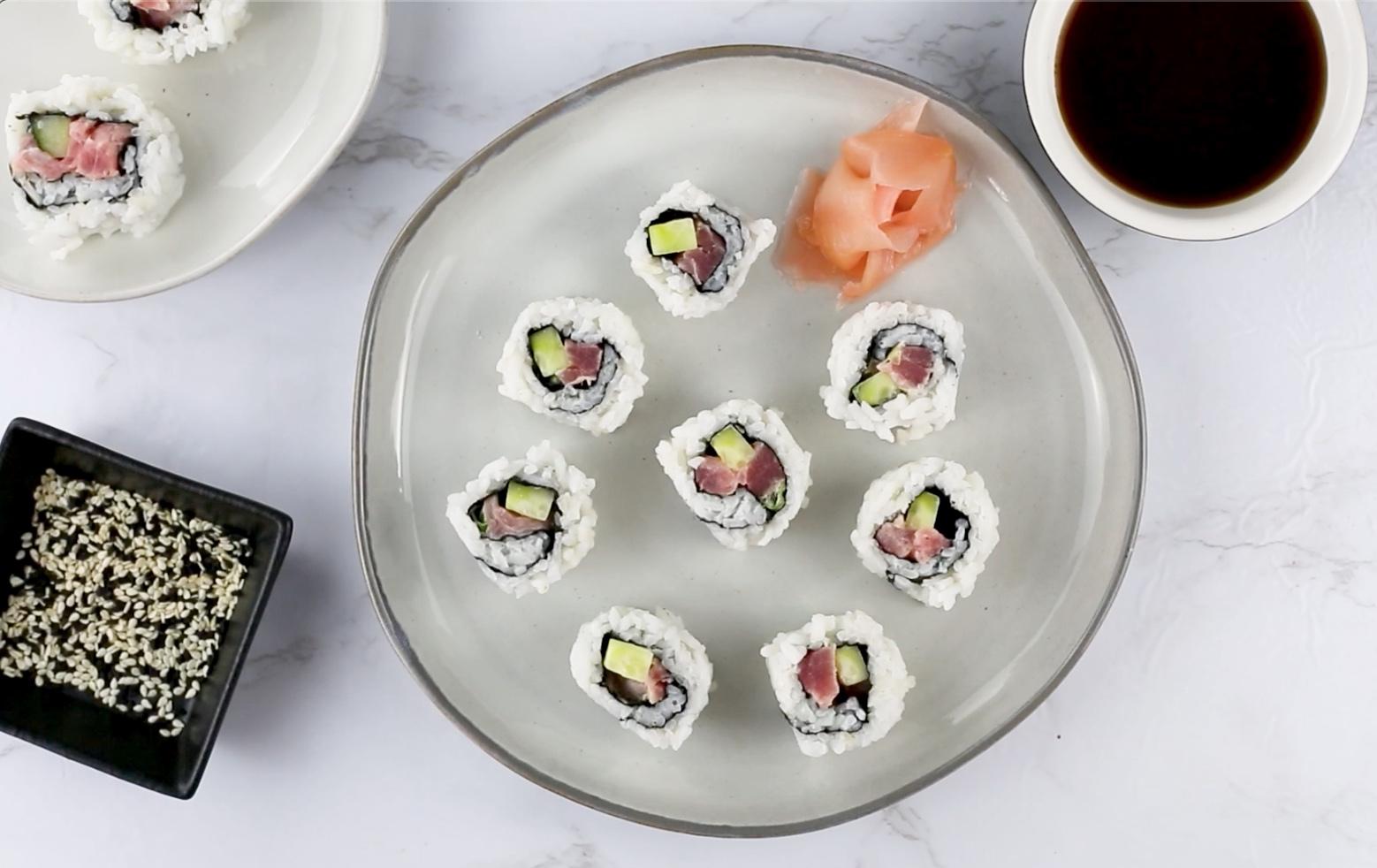 30 minutes OR LESS
Marukan Yuzu Tuna Sushi Rolls
Tasty tuna sushi rolls can be made at home with this easy recipe.
Green Onions, finely chopped
Long Seedless Cucumber, cut into 8 long matchsticks
Black and White Sesame Seeds
INSTRUCTIONS
Rinse the sushi rice well until the water runs clear. Cook in a rice cooker or on the stove until done. Spread the rice onto a rimmed baking sheet, add the vinegar, mix, top with another baking sheet and let cool.
In a mixing bowl, combine 4 tablespoons yuzu ponzu with the mayonnaise and whisk until smooth. Dice the tuna into a small dice, place in a mixing bowl, add the ponzu mayo and green onion and mix.
Cut off the bottom quarter of each nori sheet and reserve for another use. Center 1 sheet of nori on a bamboo sushi mat covered with plastic wrap. With damp hands spread a thin layer of rice onto the nori leaving a ½-inch space at the bottom, press the rice firmly down. Arrange ⅛ of the tuna mixture in a line across the rice about one third of the way down from the top of the sheet. Add one cucumber matchstick, wet the uncovered edge of the nori sheet, firmly roll the mat over the ingredients. Use the mat to help shape the roll. Cut each roll into 8 pieces and sprinkle with sesame seeds.
Serve with more ponzu sauce and pickled ginger.