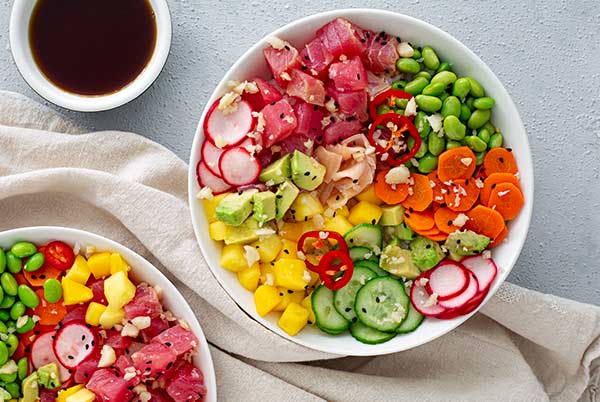 30 minutes OR LESS
Marukan Ponzu Tuna Poke Bowl
Marukan Yuzu Ponzu and Seasoned Gourmet Rice Vinegar elevate the flavors of the tuna, vegetables and rice in this tasty dish.
Medium Carrots, thinly sliced
Baby Seedless Cucumbers, thinly sliced
Avocados, peeled and diced
Fresno Chili, thinly sliced
INSTRUCTIONS
Rinse the sushi rice well until the water runs clear. Cook in a rice cooker or on the stove until done. Stir in the Marukan Seasoned Gourmet Rice Vinegar.
Put the carrots, radishes, and cucumbers in small bowls and top with Marukan Seasoned Gourmet Rice Vinegar. Let sit at room temperature while the rice is cooking.
Dice the tuna into about ½ inch dice. Place in a bowl and top with Marukan Yuzu Ponzu, let sit for a few minutes at room temperature or for 15–30 minutes in the refrigerator.
Divide the rice among four bowls. In sections, add the tuna, edamame, avocado, mango, and pickled vegetables. Top with macadamia nuts and sesame seeds. Garnish with pickled ginger and chili slices. Serve with extra Marukan Yuzu Ponzu on the side.