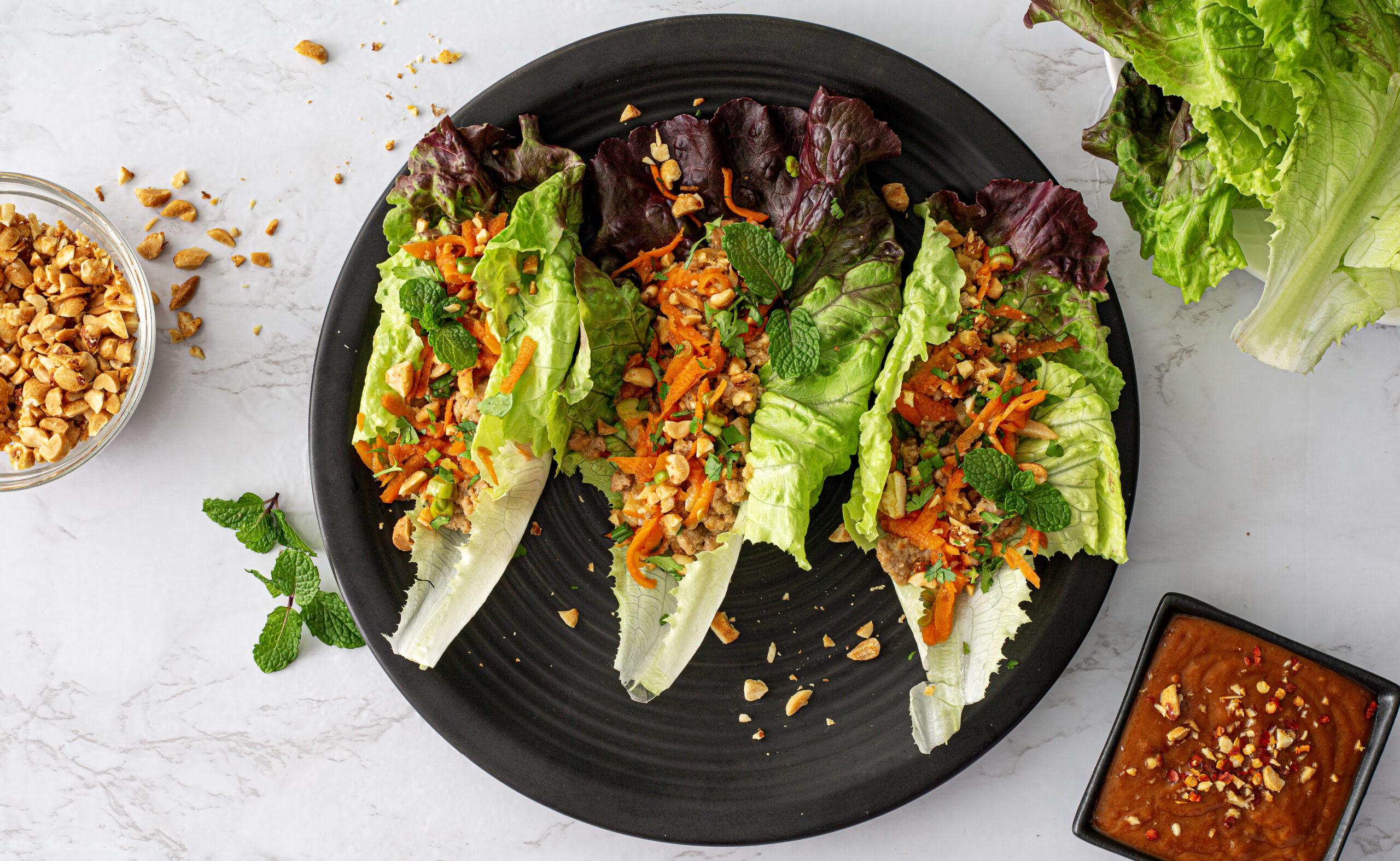 30 minutes OR LESS
Marukan Thai Peanut Lettuce Wraps
This delicious recipe is highlighted by a mouth-watering peanut sauce and a delectable relish.
Reduced Sodium Tamari or Gluten Free Soy Sauce
Warm Water, as necessary to thin
Medium Carrot, peeled and grated
Green Onions, thinly sliced
Reduced Sodium Tamari or Gluten Free Soy Sauce
Water Chestnuts, drained and chopped
Bibb or Red Leaf Lettuce, separated into leaves
Roasted, Salted Peanuts, chopped
INSTRUCTIONS
Combine peanut butter, Marukan Lite Seasoned Rice Vinegar, tamari, brown sugar, chili garlic sauce, and ginger. Stir until smooth adding warm water as needed to thin the sauce.
Combine the relish ingredients and let sit at room temperature while preparing the turkey.
Heat 1 tablespoon vegetable oil in a large skillet over medium-high heat. Add the garlic, shallots, and ginger and cook, stirring, for 1–2 minutes or until fragrant but not letting the garlic burn. Add the ground turkey and cook until no longer pink, 5–6 minutes. Add ⅓ cup peanut sauce and the water chestnuts, and continue to cook, stirring, until the turkey is sticky and coated, about 3 minutes.
Put the rest of the peanut sauce in a small serving bowl, garnish with a pinch of red pepper flakes and about 1 tablespoon of chopped peanuts.
Serve the turkey in lettuce cups topped with relish, peanuts, mint and cilantro leaves with peanut sauce on the side.