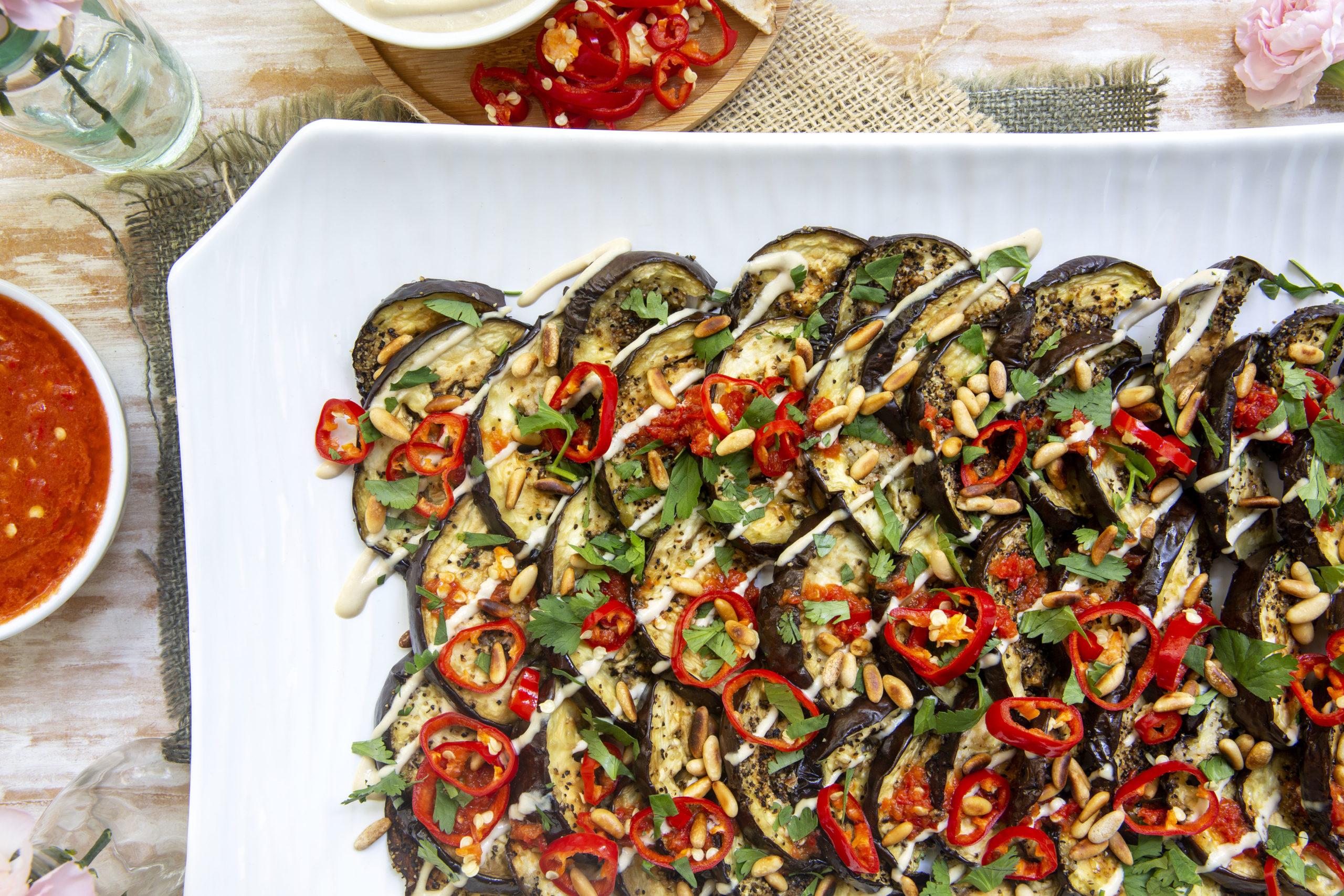 30 minutes OR LESS
Marukan Roasted Eggplant with Tahini and Quick Shatta
You'll love the roasted flavors of the eggplant and the mild, creamy taste of the tahini sauce help to balance out the spiciness of the shatta and pickled chilies, bringing everything together in delicious harmony.
Shatta is a simple Middle Eastern hot sauce made with chili peppers and plum tomatoes that adds that extra boost of flavor!
Red Chili Peppers (such as Fresno), coarsely chopped
Plum Tomatoes, whole canned
For the Quick Pickled Chilies
-
Red Chili Peppers, thinly sliced
Black Pepper, freshly ground
Cilantro Leaves, coarsely Chopped
INSTRUCTIONS
Make the shatta: Place the chilies, tomatoes, and salt in a food processor and pulse a few times until coarsely chopped – do not over process. Scrape down the sides of the bowl. Add the Marukan Seasoned Gourmet Rice Vinegar and olive oil and pulse a couple more times until just incorporated. Transfer to a small bowl and set aside. If not using right away, transfer to a jar and refrigerate covered for up to one week.
*Note – The more tomatoes you add, the less spicy the shatta will be. You can start with 2 and taste as you go.
Make the pickled chilies: Combine chilies and Marukan Seasoned Gourmet Rice Vinegar and let pickle for at least 30 minutes at room temperature. If not using right away, store in a covered jar in the refrigerator for up to two months.
Make the tahini sauce: Combine the tahini paste, lemon juice, garlic, and salt in the bowl of a food processor and process to combine. Add 2 tablespoons of ice water at a time (it may seize up on you, that's normal) and continue processing until you have a smooth, light sauce. It should turn almost white. If the sauce is too thick, simply add more water, a little at a time. This recipe can be made without a food processor, simply use a whisk to combine. Can be made ahead up to five days and stored, covered, in the refrigerator.
Make the roasted eggplant: Preheat the oven to 400°F. Line a baking sheet with parchment paper. Cut the eggplants into ½-inch slices, then cut the slices in half to create half-moons. Lay the eggplant slices on the prepared baking sheet, brush with olive oil, sprinkle with salt and pepper, flip over, and do the same to the other side. Roast the eggplant for 15 minutes, flip the slices over, and roast for another 10-15 minutes or until nicely browned and cooked through.
Place the eggplant on a platter, drizzle with tahini sauce, add some shatta and pickled chilies, scatter the pine nuts and cilantro over the top, and serve extra tahini sauce and shatta on the side. Can be served warm or at room temperature.