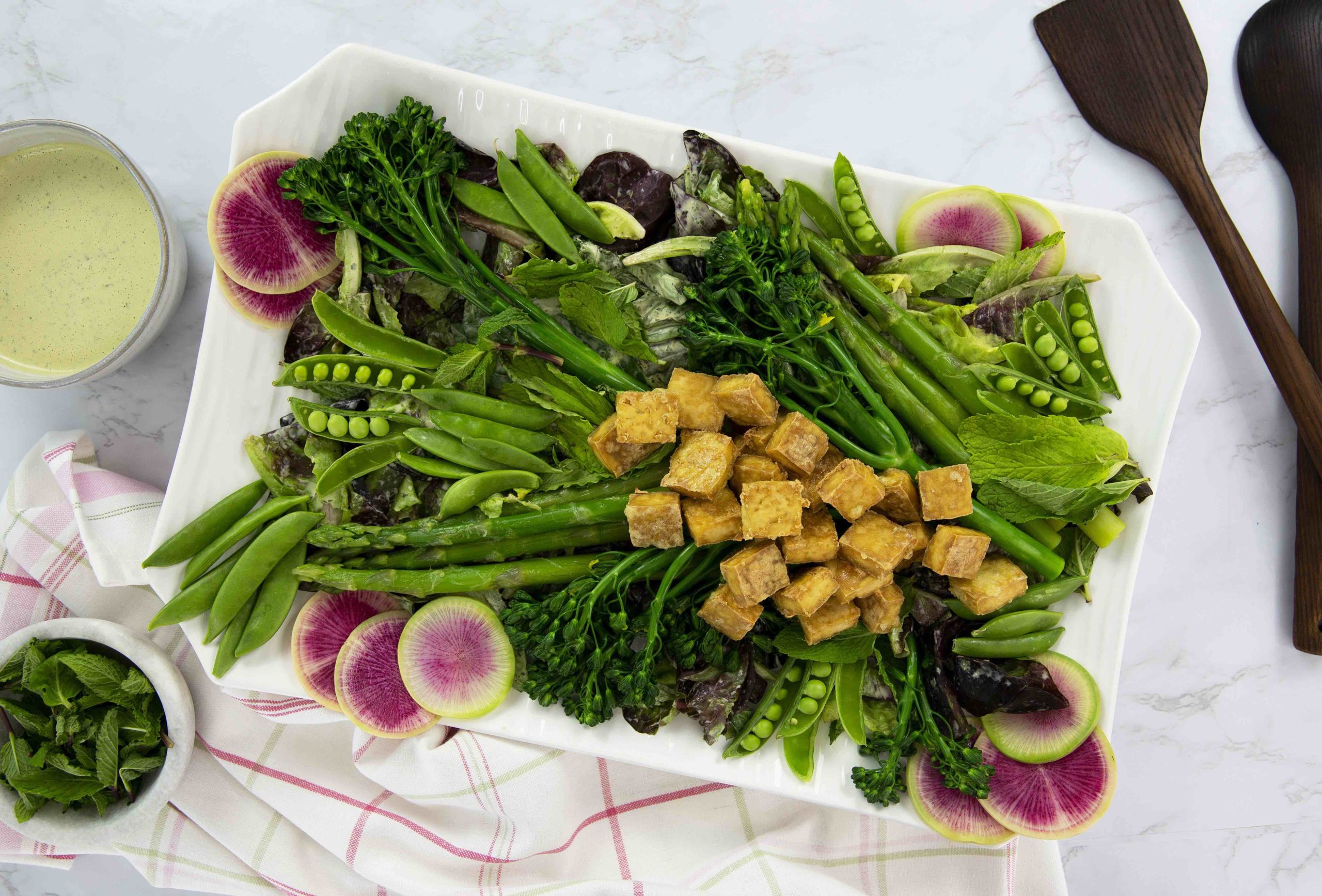 45 minutes OR LESS
Marukan Spring Salad with Crispy Tofu Croutons
A fresh and beautiful salad with a creamy dressing featuring our Marukan Organic Rice Vinegar.
14 oz. Block Organic Extra-Firm Tofu
Small Bunch Asparagus, woody ends trimmed
Small Bunch Baby Broccoli
Fresh Basil Leaves, plus more for salad if desired
Fresh Mint Leaves, plus more for salad if desired
Sour Cream or Full-Fat Greek Yogurt
Rainbow Radishes, thinly sliced
INSTRUCTIONS
Preheat the oven to 400°F. Line a rimmed baking sheet with parchment paper.
Drain the tofu. Slice the block of tofu into three equal-sized slabs. Stack the slabs and cut lengthwise into three equal lengths, then slice across to make four even rows.
Line a baking sheet or cutting board with a kitchen towel or paper towels. Arrange the tofu on the towel in an even layer. Top with another towel or more paper towels. Top with another baking sheet or cutting board and then place something heavy on the top, such as a cast iron skillet. Let sit for 10-30 minutes.
Transfer the pressed tofu to a mixing bowl, add 1 tablespoon vinegar, 1 tablespoon olive oil, and 1 tablespoon cornstarch. Gently toss until everything is well coated. Arrange the tofu in an even layer on the prepared baking sheet. Bake for 15 minutes, flip the tofu pieces over, then bake for another 15-20 minutes or until lightly golden brown. Set aside while you prepare the salad. (Alternatively, the tofu can be cooked in the air fryer at 400°F for 15 minutes, no flipping needed.)
Fill a deep skillet with water and have a large bowl with ice water standing by. Bring the water to a boil, add the asparagus, and blanch for 4-6 minutes, depending on the thickness. Remove the asparagus and put into the ice water to stop the cooking and preserve the color. Add the broccoli to the boiling water, blanch for about 30 seconds or until bright green, then transfer to the ice water. Drain both asparagus and broccoli.
In a small food processor or blender, process 1½ cups basil and 1½ cups mint until finely chopped. Add 3 tablespoons vinegar, 2 tablespoons olive oil, the mayonnaise, sour cream, and honey, if using. Process until fully blended. Taste and add salt and pepper, as needed.
Add any extra basil and mint leaves to the baby greens and toss with some of the dressing. Spread on a platter. Arrange the asparagus, broccoli, peas, radish slices, and crispy tofu in sections. Serve the remaining dressing on the side.