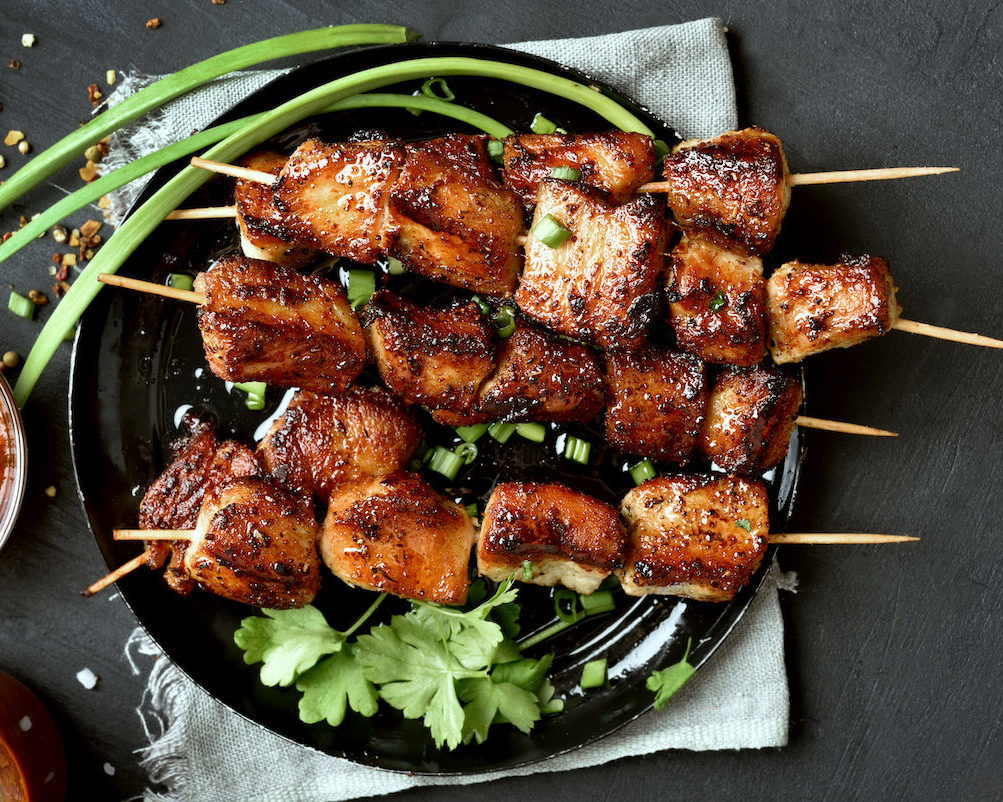 1 hour 30 minutes OR LESS
Marukan Grilled Spicy Pork Skewers
Fire up the grill for our Marukan Grilled Spicy Pork Skewers!
Pork Shoulder, boneless skinless
INSTRUCTIONS
Place pork on a baking sheet. Freeze for about an hour, until the edges are firm.  Remove from freezer and slice to desired thickness.
On the side, mix together green onions, chiles, garlic, soda, Marukan Ponzu Premium Soy Dressing with Sudachi Citrus, Marukan Genuine Brewed Rice Vinegar, sugar, peppercorn, and salt into a plastic gallon-sized resealable bag. Grind up mushroom until it gets to a powder consistency, and add it to the marinade. Add in pork, and chill for 6-8 hours. Once done chilling, take out pork and place on skewers.
Turn the grill to medium high heat. Place the marinade in a saucepan and bring to a boil on the grill. Season pork with salt and place it on the grill, until brown. Flip over and baste other side with the marinade. Continue to grill the skewers, turning and basting every minute. Grill until the pork is cooked throughout and garnish with chopped green onion and cilantro. Enjoy!