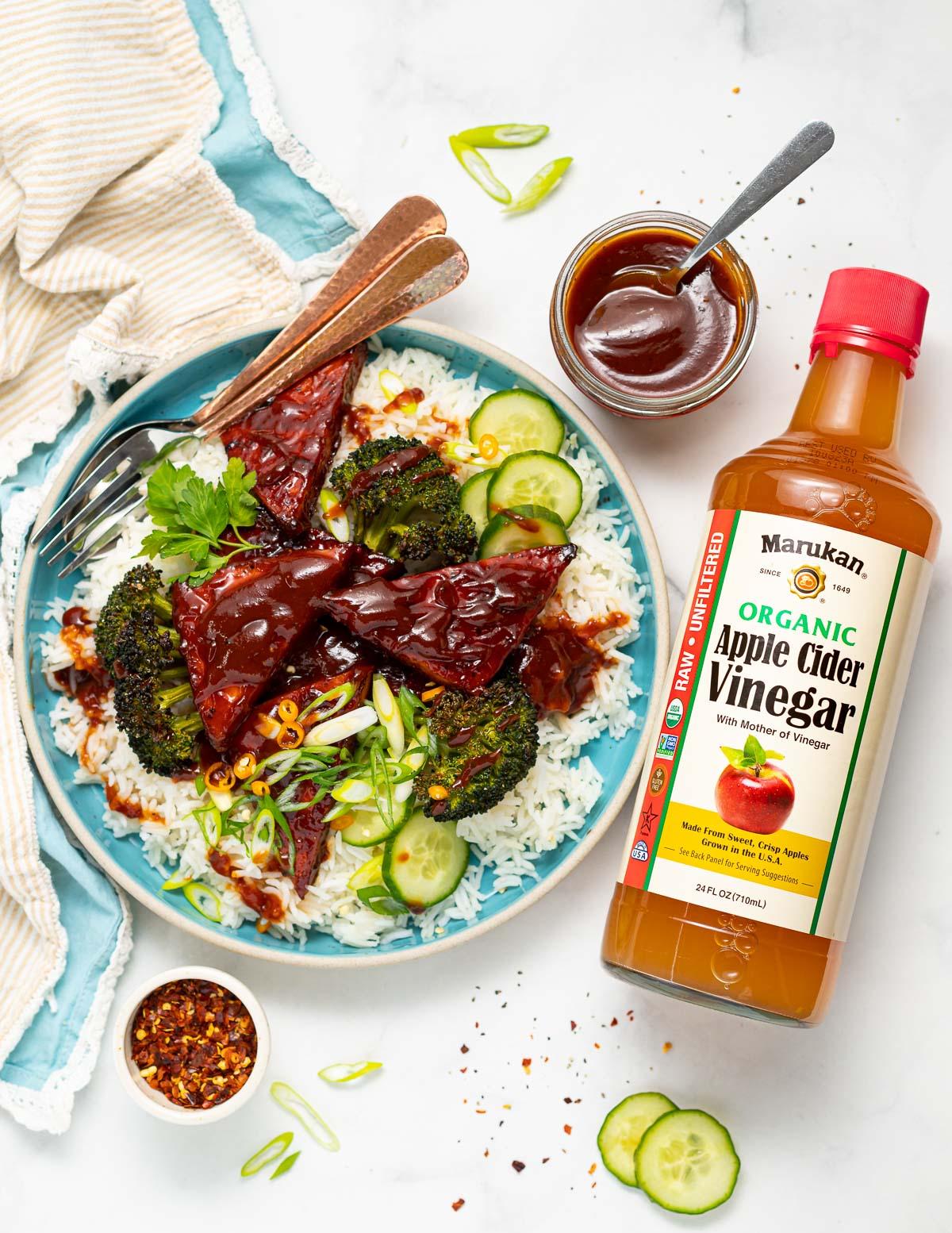 50 minutes OR LESS
Marukan Apple Cider Vinegar BBQ Tofu Bowls
Our Marukan Apple Cider Vinegar BBQ Tofu Bowls, created by A Virtual Vegan, are made using a quick homemade BBQ sauce that is off-the-charts delicious!
INSTRUCTIONS
To Bake:
Add everything except the tofu and vegetables to a small saucepan, whisk together then set over medium heat. Allow to come gently to a boil and cook for 5 minutes, stirring frequently. Turn off the heat, taste (carefully as it will be very hot) and adjust seasonings to preference, then set aside. Open the tofu, drain any excess water then lay it on its side and cut carefully lengthways into ½ inch thick large slices. Take each of those slices and cut it into triangles.  Lay the tofu triangles out in a large dish and pour over just enough of the sauce to coat the tofu, and make sure all sides of the tofu are covered (at this stage you can cover the dish tightly and refrigerate for up to 3 days before proceeding with baking it). Lay the tofu triangles out on a lined metal baking sheet and bake at 400° F for 25 minutes. Keep the dish with the remaining glaze in it as you will need it later. Turn the tofu over and brush generously with more sauce (use what's left in the dish you coated the tofu in) and add in the broccoli. Bake again for 20-25 minutes, or until the tofu looks caramelized and is getting slightly charred on the corners/edges. Brush generously with sauce once again before serving to make the tofu pieces shiny and saucy. Serve over rice with sliced cucumbers, green onions and cilantro. Enjoy!
*Decant leftover sauce into a bottle or jar for serving. Feel free to thin it out with a little water if you want it to be more pourable.
To Grill:
Make the BBQ sauce and coat the tofu with sauce as above. Place the pieces of saucy tofu over a medium grill and cook, basting with sauce when you can, until clear grill lines have appeared and the corners and edges are beginning to look dark brown and caramelized. Brush with sauce once more before serving.
Recipe Credit: A Virtual Vegan