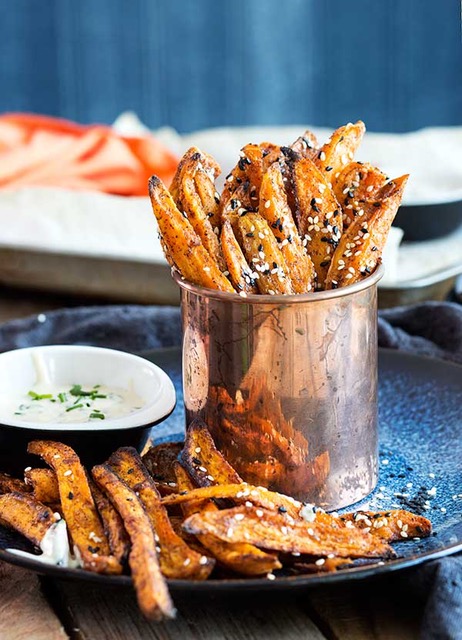 45 minutes OR LESS
Asian-Style Sweet Potato Fries with Ponzu Aioli
Sweet Potatoes (4 medium)
INSTRUCTIONS
Preheat the oven to 400 degrees. Line two baking sheets with parchment paper. Peel the sweet potatoes and cut into ¼-inch thick sticks, trying to make as evenly sized as possible. Place the potatoes in a bowl or large food storage bag, add the corn starch, 1 teaspoon garlic powder, chili powder and shake or toss until all the starch has been absorbed into the potatoes. Add the sesame oil and toss well. Divide the potatoes between the baking sheets, spread in even layers, and bake for 15 minutes.
While the fries are baking, prepare the aioli. Combine mayonnaise, 1 teaspoon garlic powder, and ponzu. Mix well. Refrigerate until serving time.
After 15 minutes, flip the potatoes, then switch the position of the pans and rotate the pans. Bake for another 15 minutes. Sprinkle with salt and sesame seeds. Serve hot with the ponzu aioli, enjoy!
Recipe Credit: Simply Gluten Free