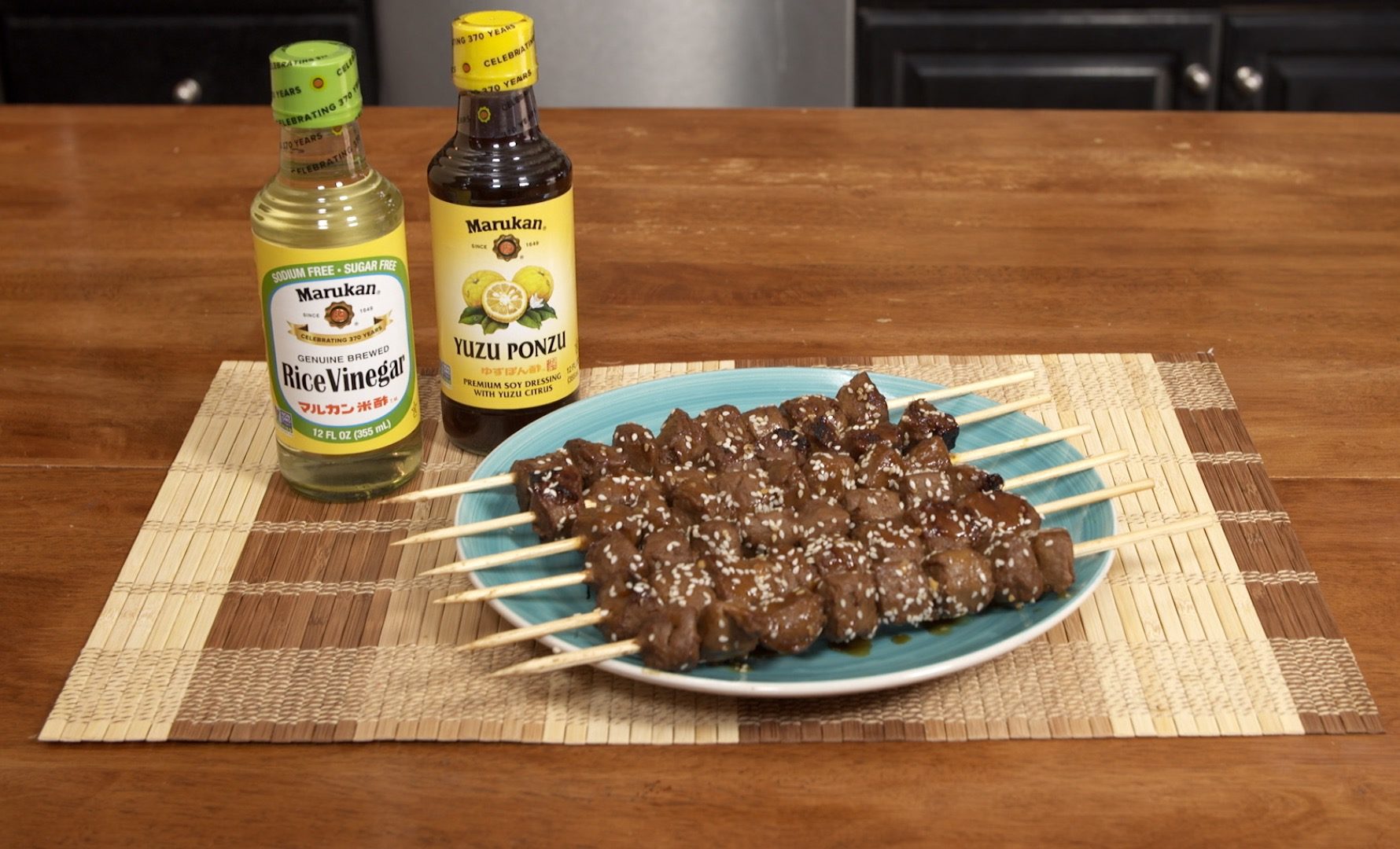 40 minutes OR LESS
Marukan Teriyaki Glazed Beefless Skewers
With an appealing presentation and undeniably delicious flavor, our skewers are a great choice when entertaining! This recipe was created by Marie Oser, best selling food and health author!
INSTRUCTIONS
Soak bamboo skewers for 30 minutes. Thread the plant based 'beef' onto the skewers. Make the vegetable broth (mix boiling water with a vegetarian bouillon cube, beef flavored if available) Combine broth with the Marukan Genuine Brewed Rice Vinegar, tamari, garlic and ginger. Pour marinade over the skewers in an oblong non-reactive baking type dish (glass or ceramic). Cover and set aside for at least 20 minutes. You may also set up the marinade the night before, marinating overnight.
Make the glaze. In a medium saucepan, over medium heat, combine pineapple juice, tamari, Marukan Ponzu Premium Soy Dressing with Sudachi Citrus, lime juice minced garlic, ginger, light brown sugar and toasted sesame oil. Cook 3 to 5 minutes, do not allow to boil.  Blend cornstarch and water in a small bowl. Add to the pan, whisking until thickened. Remove from heat and set aside.
Place skewers on lightly greased, preheated grill.  Brush with glaze and sprinkle with sesame seeds. Grill until browning, turn and repeat.  Serve hot.
Visit our coupon page to learn how to Save $1.00 on your favorite Marukan product.