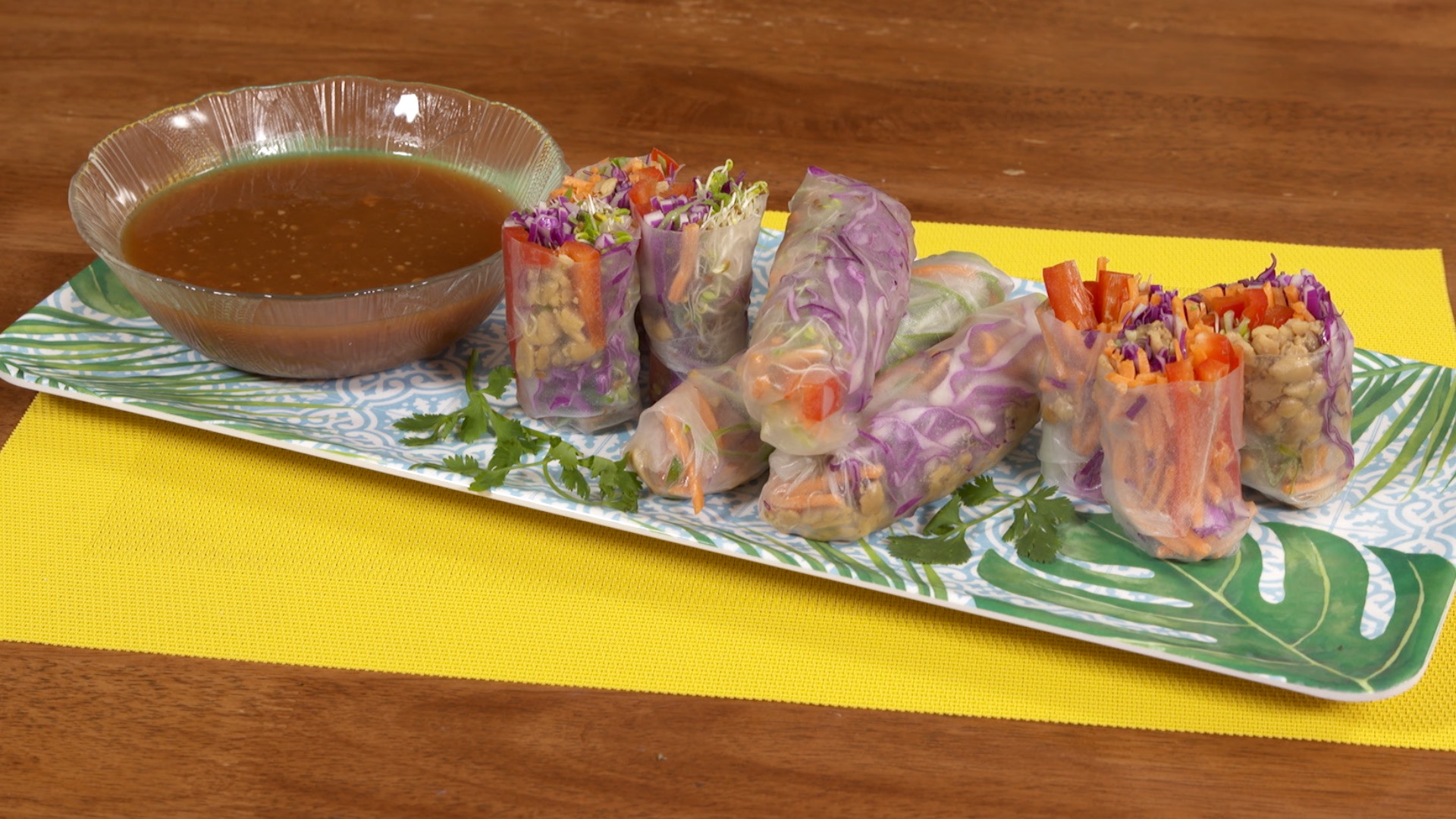 30 minutes OR LESS
Marukan Tempeh Spring Rolls with Sweet Chili Sauce
Our tasty dish with lovely texture makes for a gorgeous presentation! This recipe was created by Marie Oser, best selling food and health author!
Vegan Worcestershire Sauce
Red Bell Pepper, sliced into strips
Microgreens, alfalfa or other sprouts
INSTRUCTIONS
Chili Sauce – Place the ingredients in a blender, in the order listed (up to, but not including the cornstarch and water). Blend until smooth. Pour into a saucepan and cook mixture over medium heat. Combine cornstarch and water in a small bowl. Add to pan and mix thoroughly. Reduce heat to low and simmer 5 minutes, stirring frequently until sauce becomes translucent.
Steam Tempeh over boiling water for 15 minutes. Set aside. Tempeh can be steamed and stored, covered in the refrigerator for up to 5 days, before incorporating into any recipe.
Place sesame oil in frying pan, over medium heat. Mash tempeh in pan, cooking for 3 minutes. Add tamari, water and nutritional yeast. Cook 5 minutes or until brown. Set aside.
Assembly – Dip each rice paper wrapper, briefly in water. Fill, first with tempeh, followed by veggies, topped with microgreens. Moving quickly, roll up like a burrito, tucking in the sides as you go. Serve or store for up to two hours, wrapped individually with plastic wrap.
Visit our coupon page to learn how to Save $1.00 on your favorite Marukan product.