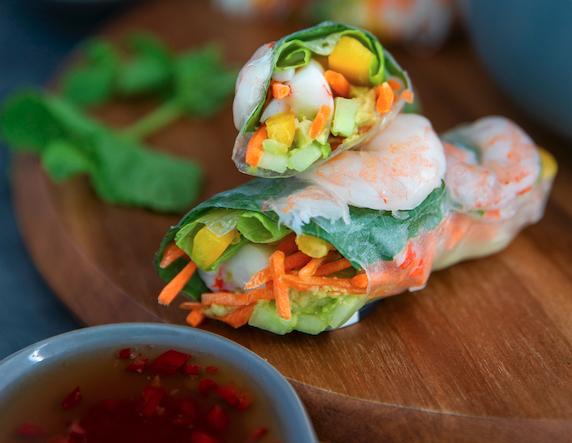 1 hour OR LESS
Marukan Summer Rolls
These fresh and easy rolls are a great appetizer with a delicious dipping sauce made with our Marukan Lite Seasoned Rice Vinegar!
Garlic, grated or finely minced
Thai Chilis, minced (remove seeds for less heat or use Fresno chilis)
Dried Rice Vermicelli Noodles
Fresh Herbs such as Mint, Basil, Thai Basil, Cilantro
Cooked Meat, Shrimp or Gluten Free Imitation Crab or a Combination of Meats
Medium Seedless Cucumber, cut into very thin strips
Cream Cheese, cut into thin strips
Rice Paper Spring Roll Wrappers
INSTRUCTIONS
Prepare the dipping sauce by combining all ingredients in a small jar. Shake well to combine.
Place the noodles in a large bowl, cover with bowing water and let sit for 15 minutes. Drain.
Gather all the filling ingredients on a cutting board or in small plates or bowls.
Prepare a large bowl with warm water. One by one, dip a rice paper wrapper into the warm water, turning it if needed to get it all wet. Only dip it into the water for a few seconds – the wrapper should still be a little stiff. Rice paper wrappers are difficult to work with if over soaked. If still a little stiff, they will continue to soften as you add the ingredients.
Place the wrapper on a cutter board or mat. On the 1/3 section closest to you, start to layer your ingredients by first placing a leaf or two of lettuce. Next add noodles, vegetables, herbs, and meat.
Roll the wrapper over the ingredients, tucking a rolling as you go – as if making a burrito. Make sure you keep the fillings together and wrap it tightly.
Note – if using shrimp, roll the wrapper until you have 1/3 left then put on a layer of shrimp – this is the shrimp shown in the finished wrap.
Continue with the rest of the wrappers and ingredients.
Cut the rolls in half on a diagonal and serve with dipping sauce.