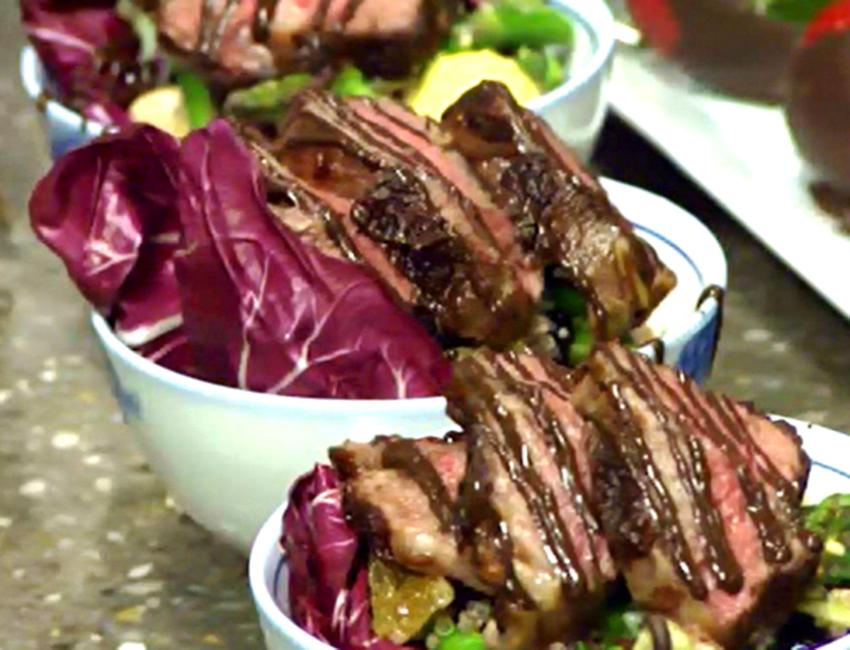 45 minutes OR LESS
Marukan Spring's Bounty Lamb & Asparagus Salad Dinner
White Asparagus, blanched and cut into slices about 3" long and 1/8" thick
Green asparagus, blanched and cut into slices about 3" long and 1/8" thick
Red Onion, peeled and thinly sliced
Large English Cucumber, seeded and sliced (about 1 cup)
White Button Mushrooms, sliced
Radicchio, cored and leaves separated
Small Capers, for garnish
INSTRUCTIONS
Preheat oven to 425 degrees.
Heat a nonstick skillet over medium heat and sear the lamb on all sides until slightly browned. Remove from pan and being careful not to touch meat while it's too hot, smear lamb with mustard. Sprinkle with thyme and pepper and roll in breadcrumbs. Shake lamb to remove excess breadcrumbs.
Put lamb in a baking dish and roast about 15 minutes, until 135 degrees in the middle for medium rare. Remove from oven and let rest 5 minutes before slicing.
To make the salad, combine the white and green asparagus, onion, cucumber, raisins and mushrooms in a large bowl, tossing to mix. Add vinegar and truffle oil and toss again.
Remove yolks from two of the hard boiled eggs and discard. Chop all the eggs.
To serve, set some radicchio leaves on each plate to form a small cup, and spoon in some salad. Sprinkle with lemon zest and chopped eggs, and garnish with chives and ½ teaspoon capers.
Serve alongside 3 ounces of lamb per person.