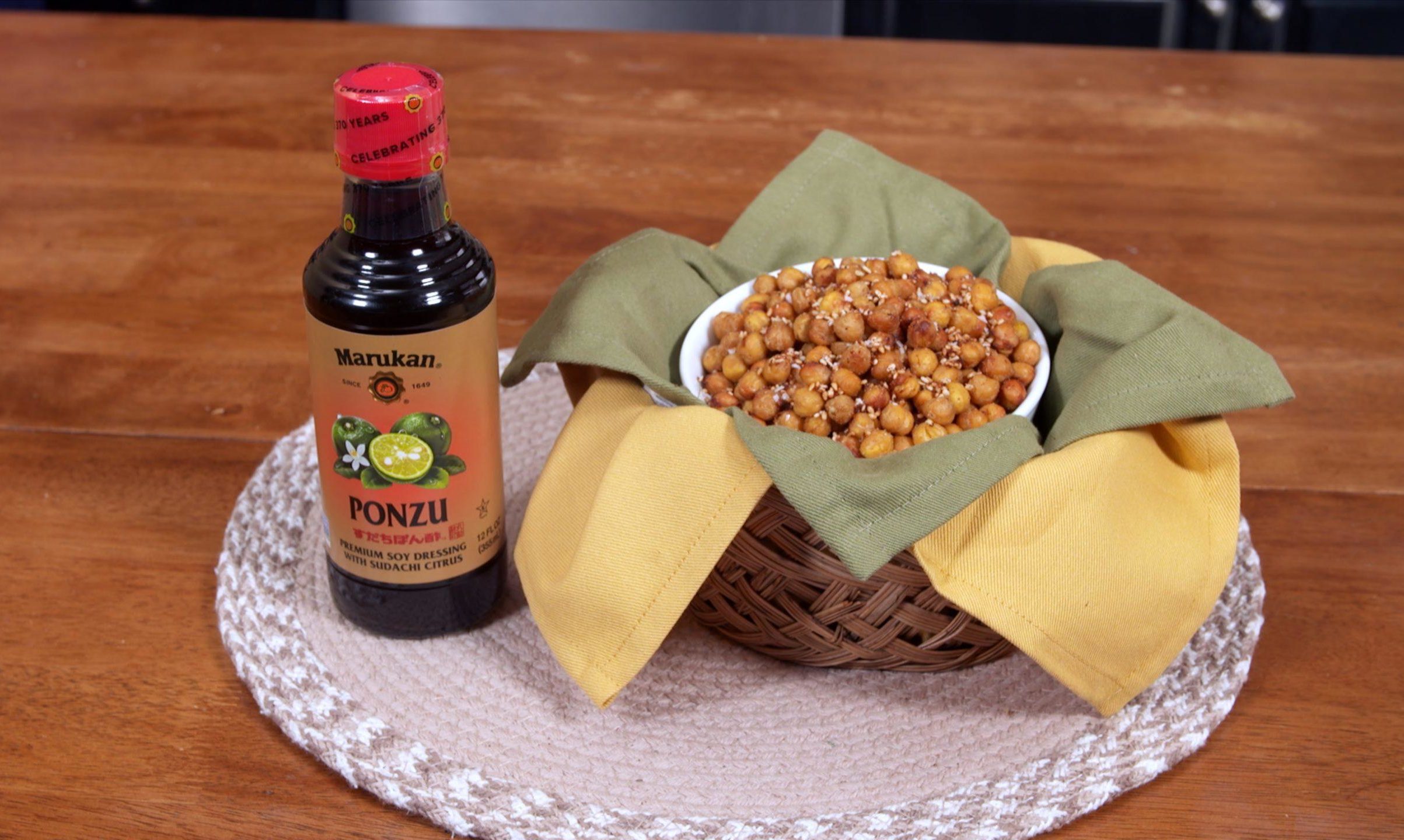 25 minutes OR LESS
Marukan Sesame Soy Ponzu Roasted Chickpeas
Our Marukan Sesame Soy Ponzu Roasted Chickpeas are really tasty and positively addictive! Crunchy on the outside and creamy on the inside, these super-healthy chickpea snacks are simple to make. This recipe was created by Marie Oser, best selling food and health author!
Garbanzo Beans, drained and not rinsed
INSTRUCTIONS
Air-Fryer Instructions:
Drain garbanzo beans and place in medium mixing bowl. Toss with olive oil, Marukan Ponzu Premium Soy Dressing with Sudachi Citrus, granulated garlic, nutritional yeast and sesame seeds, stirring well after each addition. Let sit for 5 minutes. Preheat air-fryer 3 minutes to 390°. Spritz the basket with olive oil. Place the beans in the basket in a single layer.  Spritz with a little extra olive oil. Set the timer for 15 minutes. Stir and shake the pan at 5 minute intervals. You may hear popping sounds while they're roasting and if they are not light golden brown and crisp at the 15 minute mark, stir again and return to the fryer for about 3 minutes longer. Do not overcook.
Conventional Oven Instructions:
Preheat oven to 350°. Drain garbanzo beans and place in medium mixing bowl.  Toss with 1 tablespoon of olive oil. Mix spices in a separate bowl and set aside. Place on a lightly greased baking sheet with a lip. Bake 30 minutes, stirring at 10 minute intervals.
*Unlike the air fryer method, it is important to toss the hot roasted beans with spices right after baking, as the spices can become bitter in a conventional oven.