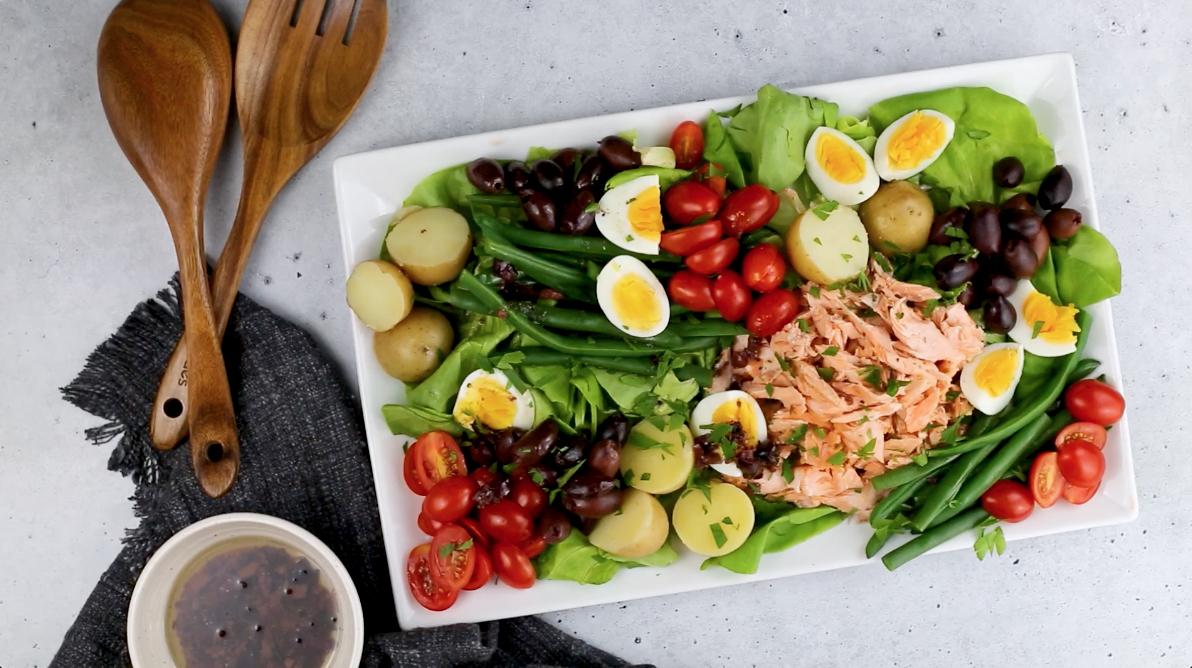 1 hour, 15 minutes OR LESS
Marukan Salmon Nicoise Salad with Kalamata Dressing
This refreshing salad features a salmon marinade and tangy kalamata dressing featuring Marukan Seasoned Gourmet Rice Vinegar.
Cloves Garlic, grated or finely minced
Freshly Ground Black Pepper
Salmon Filet, skin on, bones removed
Gluten Free Non-Stick Cooking Spray
Pitted Kalamata Olives, finely minced
Cherry or Grape Tomatoes, cut in half
Whole Pitted Kalamata Olives
Fresh Italian Parsley, chopped
INSTRUCTIONS
Combine ½ cup olive oil, lemon juice, 2 tablespoons Marukan Seasoned Gourmet Rice Vinegar, garlic, 1 teaspoon salt, and ½ teaspoon pepper in a jar and shake well. (Or whisk in a small bowl until combined.)
Place salmon in a glass baking dish or large food storage bag. Add the marinade, coating salmon well, cover baking dish with plastic wrap or seal bag, and refrigerate for 30 minutes.
Preheat oven to 400°F. Line a rimmed baking sheet with foil and spray lightly with cooking spray. Fill a large bowl with water and ice.
Bring a large pot of generously salted water to a boil. Add the potatoes and boil until almost tender, about 10 minutes. Add the green beans and continue to cook until the potatoes are tender, and the green beans are crisp tender, about 3 minutes. Using tongs or a slotted spoon, remove the potatoes and beans and transfer to the bowl of ice water, reserving the boiling water in the pot.
Using a slotted spoon, carefully lower the eggs into the boiling water. Cook for 7 ½ minutes and transfer to the ice water. Let the potatoes, beans, and eggs sit in the water for 5 minutes. Drain. Cut the potatoes in half, peel the eggs, and cut into quarters.
Remove salmon from marinade, place on prepared baking sheet, skin-side down. Discard marinade. Roast for 12–16 minutes (depending on thickness) or until salmon flakes easily. Let cool.
Make the dressing. Combine ¼ cup olive oil, 2 tablespoons Marukan Seasoned Gourmet Rice Vinegar, minced kalamata olives, Dijon mustard, and a pinch of black pepper in a jar and shake well.
Place the lettuce on a large platter. Arrange salmon, potatoes, green beans, eggs, tomatoes, and whole kalamata olives on top of the lettuce. Drizzle with a little of the dressing. Sprinkle with chopped parsley and serve the remaining dressing on the side.