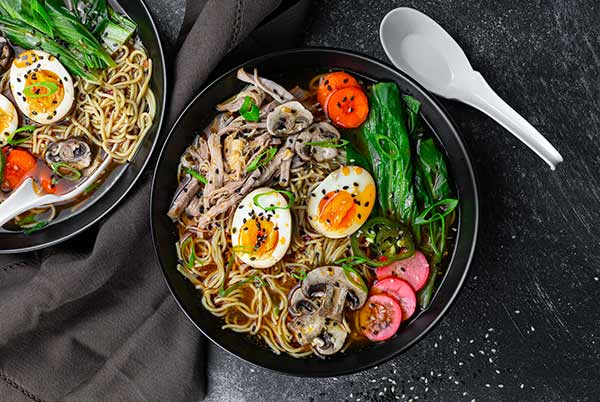 3 hours OR LESS
Marukan Pulled Pork Ramen
The ultimate fusion of comforting Japanese ramen and the smoky goodness of tender pulled pork.
Boneless Pork Tenderloin, cut into 3-4 pieces
Quick Pickled Vegetables:
Assorted Mushrooms, cleaned and sliced
Non-Stick Cooking Spray, gluten free
Ramen Noodles, gluten free
Baby Bok Choy, halved lengthwise and sautéed
Green Onions, thinly sliced
INSTRUCTIONS
Marinade:
Rub the pork with salt. Put in a large food storage bag, add the rest of the marinade ingredients, close the bag and shake to distribute. Allow to marinate in the refrigerator for at least 30 minutes or up to 24 hours.
Pickled Eggs:
Bring a medium pot of water to a boil and prepare an ice bath. Gently add eggs (cold from the refrigerator) into the boiling water and cook for exactly 6 ½ minutes. Remove and immediately place in the ice bath. Let cool. Peel the eggs.
Combine the tamari, mirin, ¾ cup water, and vinegar in a small bowl and whisk. Add the eggs. Place a paper towel soaked in marinade on top to keep eggs submerged. Cover with plastic wrap and refrigerate for 6–12 hours. Discard marinade. Serve eggs immediately or store in the refrigerator in an airtight container.
Quick Pickled Vegetables:
Place vegetables in a small jar. Cover with vinegar and let sit for at least 15 minutes at room temperature. Can be made ahead and stored in the refrigerator for up to 1 week.
Pickled Mushrooms:
Place mushroom in a small jar. Cover with Marukan Seasoned Rice Vinegar and let sit at least 25 minutes. Can be made ahead and stored in the refrigerator for up to 1 week.
Pork and Broth:
Remove pork from marinade and discard the marinade. Spray instant pot insert with cooking spray and set on the sauté function. Add the oil and let heat. Add the pork and brown on all sides.
Add chicken broth, water, mirin, and dashi powder. Cook on high pressure for 45 minutes then let naturally release. Remove pork and shred with two forks.
To the broth, add the vinegar ,tamari, fish sauce, chili garlic sauce, and pepper. Set the instant pot to sauté and simmer for 5 minutes.
Cook the ramen noodles per the package directions.
Divide noodles among 4 serving bowls. Cover with broth, add the pork and serve with pickled eggs, halved, pickled vegetables, pickled mushrooms, bok choy, chili oil, green onions, and sesame seeds.