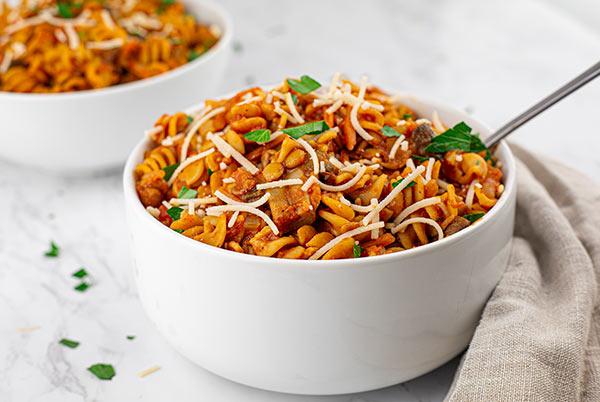 2 hours, 15 minutes OR LESS
Marukan Plant-Based Lentil Bolognese
This rich and robust plant-based pasta dish is hearty and full of flavor.
Large Carrots, peeled and shredded
Mushrooms, cleaned and sliced
Crushed Red Pepper Flakes
Black Pepper, freshly ground
2/3 Cup (or one 5.3 oz. tube)
Double Strength Tomato Paste (from a tube, not a can)
Vegetable Broth, gluten free
Canned Crushed Tomatoes, undrained
Chickpeas Rotini, gluten free
Plant-Based Parmesan Cheese Shreds, grated
INSTRUCTIONS
Rinse and pick over the lentils. Cover with water and let soak for 30–60 minutes. Drain.
Heat the olive oil in a deep skillet or Dutch oven over medium-high heat. Add the onion, carrots, and mushrooms. Cook, stirring occasionally, until the vegetables start to brown (about 8 minutes). Add the garlic, Italian seasoning, crushed red pepper, 1 ½ teaspoons salt, and ¾ teaspoons pepper. Cook, stirring, for 1 minute. Add in the tomato paste and cook, stirring, for 2-3 minutes or until darker in color. Add the vinegar and cook for about 2 minutes or until thickened a little, scraping up any browned bits.
Add in the broth, lentils, and tomatoes. Reduce heat to a simmer, cover the pot, and cook for 50 – 60 minutes or until the lentils are tender, stirring occasionally. Taste and add more salt and pepper, if needed.
Cook the pasta in salted, boiling water per the package directions. Drain. Toss the pasta with the sauce.
Serve topped with the Parmesan cheese shreds and parsley.