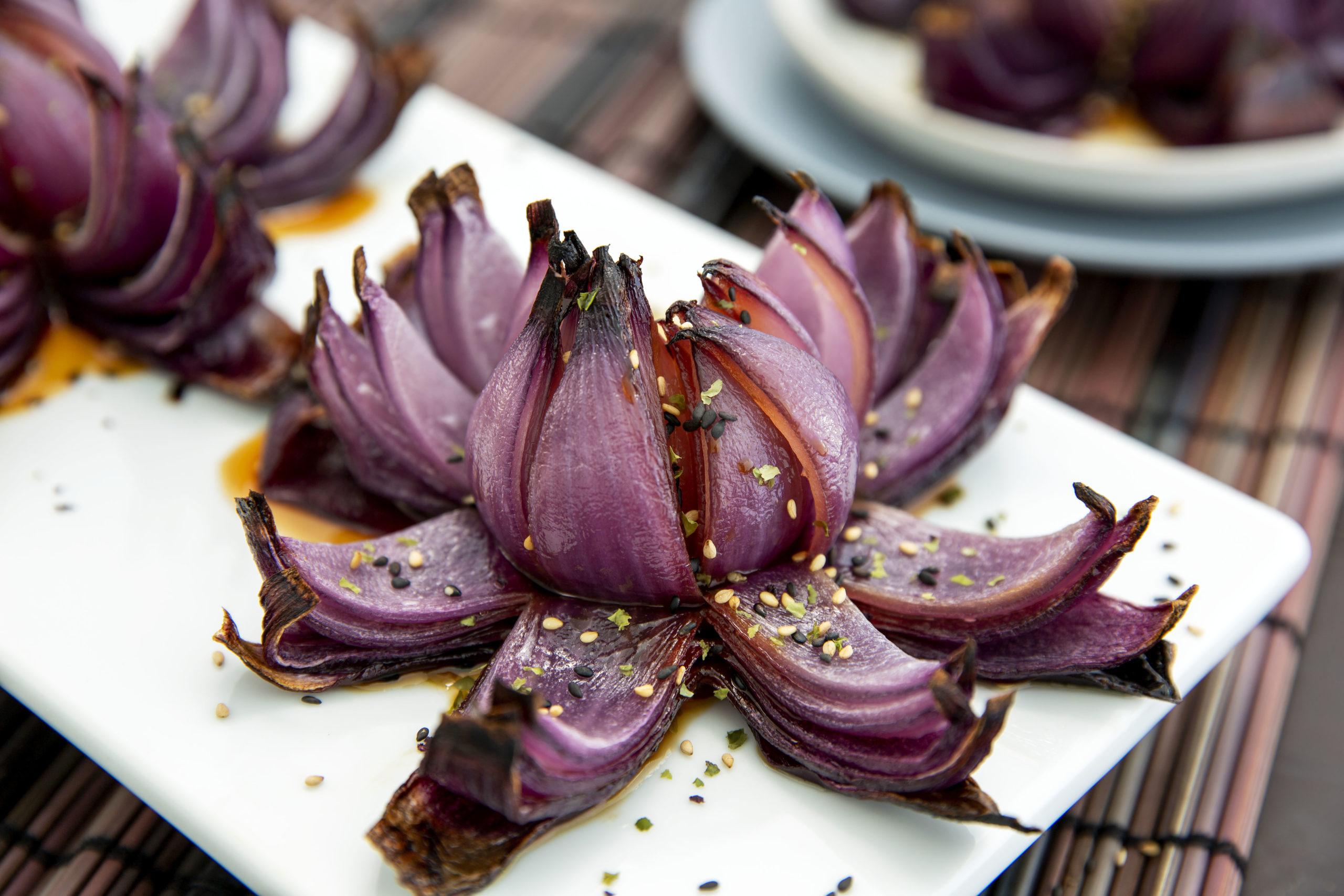 60 minutes OR LESS
Marukan Lotus Flower Onions
These roasted lotus flower onions are delicious and beautiful!
Tamari or Gluten Free Soy Sauce
Furikake or Everything But The Bagel Seasoning
INSTRUCTIONS
Cut just enough of the root end of the onions off so they sit flat. Cut about ¼ inch off the stem ends. Place the onions on a cutting board, root side down. Cut 3 slits from the stem down towards the root end, crisscrossing to make what looks the 6 pie wedges, make sure to only cut about two-thirds down. Do not cut all the way through. Peel off the papery outer skins.
Bring a large pot of water and 1 Tbsp of salt to a boil. Preheat the oven to 425 degrees and line a baking sheet with parchment paper.
Place the onions in the boiling water and cook for 4-5 minutes. Remove from the water and let cool until cool enough to handle. When cool enough, gently open up the layers of the onions so they look like flower petals. They will open up more while roasting so don't force them. Drizzle each onion with a little olive oil. Place on the prepared baking sheet and roast for 40-45 minutes or until the onions are tender and the tips are starting to brown.
Combine the vinegar, honey, tamari, and sesame oil in a small pot or skillet and bring to a boil.
Let boil gently for 2 minutes or so or until the sauce reduces and thickens almost to a syrup
consistency.
Drizzle the onions with half the sauce and put back in the oven for 5 minutes. Put the onions on a serving platter, drizzle with the rest of the sauce and sprinkle with the furikake or everything but the bagel seasoning.