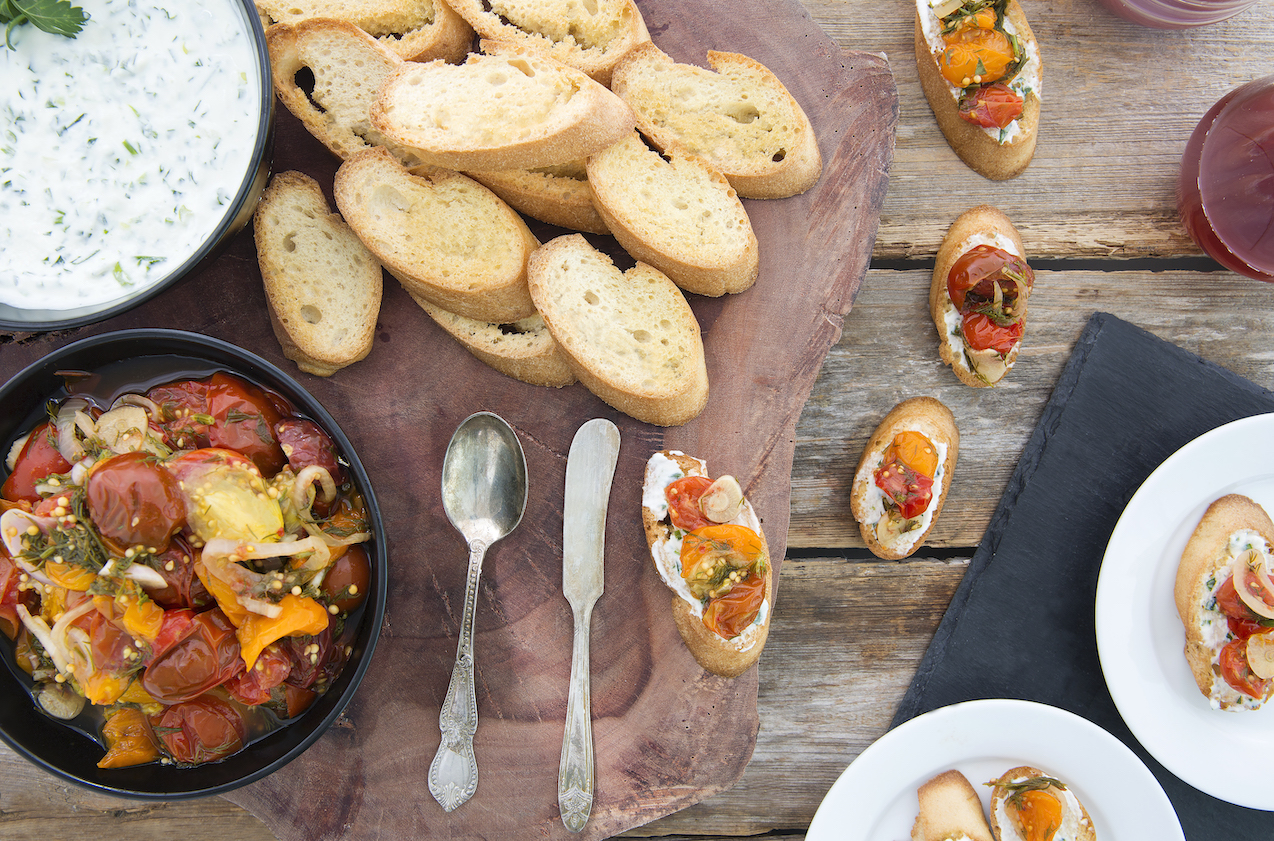 35 minutes OR LESS
Marukan Herbed Ricotta Cheese with Ponzu Pickled Tomatoes
Our Marukan Herbed Ricotta Cheese with Ponzu Pickled Tomatoes is tangy, sweet, citrusy, & creamy!
Italian Parsley, finely chopped
Scallions, white and light green parts minced
Gluten Free Baguette Slices, toasted
INSTRUCTIONS
Quick Pickled Tomatoes
Combine 1 Cup Marukan Organic Rice Vinegar, 1 Cup Marukan Yuzu Ponzu Premium Soy Dressing with Yuzu Citrus, water, sugar, mustard seeds, and red pepper flakes in a medium saucepan and bring to a boil over medium high heat. Stir to dissolve the sugar. Remove from the heat and let cool to room temperature. Cut the tomatoes in half and put them in a large mixing bowl. Thinly slice the shallots and garlic and add to the tomatoes. Add the dill. Pour the cooled sauce mixture over the tomatoes and let sit for at least 30 minutes (*Note: it can be stored in the refrigerator for up to 2 weeks – put in covered jars or containers making sure the liquid completely covers the vegetables).
Herbed Ricotta Cheese
Wet two layers of cheesecloth and place in a strainer over a deep bowl. Combine the milk, cream, and salt in a medium saucepan and bring to a rolling boil over medium heat, stirring occasionally. Take off the heat and add 3 Tbsp Marukan Organic Rice Vinegar. Let sit for a minute or two or until it starts to look curdled. Pour the mixture into the cheesecloth-lined strainer and let sit at room temperature for at 20-30 minutes pouring off the liquid that collects in the bowl occasionally. Scrape the cheese into a mixing bowl, stir in the herbs and scallions (*Note: it can be made 2-3 days in advance, store covered in the refrigerator).
Assembly
To serve, drain the vegetables over a strainer for a few minutes, place in a serving bowl and serve with the herbed ricotta and toasted baguette slices.