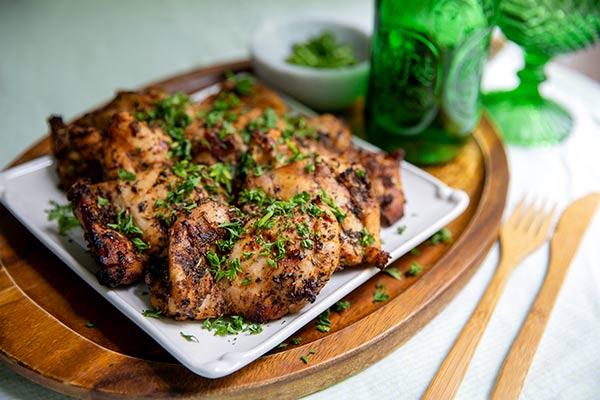 1 hour and 35 minutes OR LESS
Marukan Grilled Apple Cider Vinegar Chicken Thighs
Delicious grilled chicken made easy!
Boneless Skinless Chicken Thighs
INSTRUCTIONS
Combine vinegar, Italian seasoning, olive oil, paprika, salt, and pepper in a small bowl and whisk to combine. Pour into a large resealable food storage bag. Add the chicken thighs, seal the bag, and flip several times to coat the chicken. Refrigerate for 1-12 hours, flipping the bag over occasionally.
Remove chicken from refrigerator and allow to sit at room temperature while the grill heats.
Prepare grill for direct heat and oil the grates.
Remove chicken from marinade, discard marinade and place on the grill over direct heat. Cook for 5-7 minutes per side or until the chicken reaches an internal temperature of 165 degrees.
Let chicken rest for 5 minutes before sprinkling with chopped parsley and serving.
Recipe Credit: Simply Gluten Free