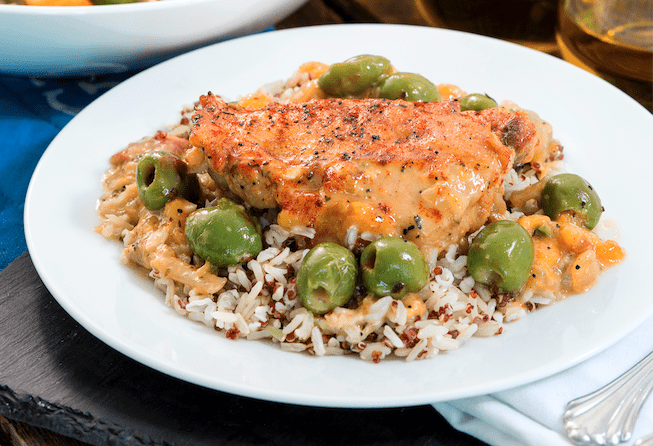 1 hour 30 minutes OR LESS
Marukan Chicken with Apricots and Olives
Looking to change up the traditional chicken dinner? This unique dish is prepped in a dutch oven, packed full of flavor and great served over rice or quinoa.
White Onion, cut in half then sliced
Low Sodium Gluten Free Chicken Broth
Sicilian Olives, pitted and smashed
INSTRUCTIONS
Combine Marukan Rice Vinegar with 1⁄4 cup olive oil and thyme. Set aside. Remove the skin and excess fat from the chicken thighs and season generously with salt and pepper. Heat 2 tablespoons olive oil in a Dutch oven or stock pot over medium-high heat. When the oil is hot, add the chicken, in batches, meaty side down, and brown well on both sides, about 4 minutes per side. Remove the chicken from the pot, add the onion along with a big pinch of salt and pepper, and cook, stirring occasionally, until the onion is soft and beginning to brown, about 5 minutes. Add the garlic and cook, stirring for 30 seconds. Add the vinegar mixture to the pot and cook, scraping up the browned bits on the bottom of the pan, for 1 minute. Add the chicken broth and bay leaves, stir to combine and cook for 3-4 minutes or until the sauce is just beginning to thicken slightly. Add the apricots and olives, stir to combine, and nestle the chicken thighs into the mixture. Cover the pot and cook for 40 minutes. Remove the lid and cook for another 15 minutes. Sprinkle the top with paprika and chopped parsley and serve with rice, quinoa, or cauliflower rice.