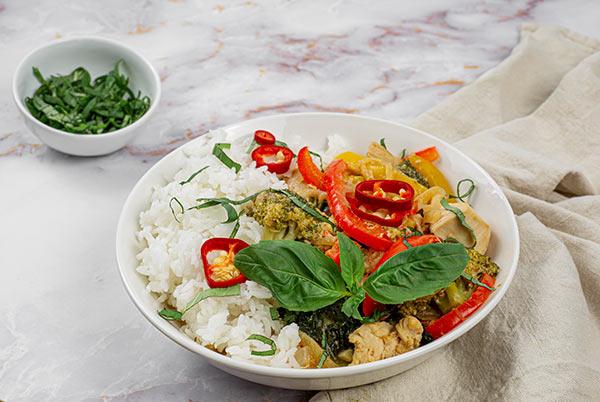 30 minutes OR LESS
Marukan Chicken Thai Red Curry
This recipe has a great depth of flavor with the delicious vegetables combined with the spicy red curry.
Yellow Onion, cut in half and sliced
Red Bell Pepper, thinly sliced
Yellow Bell Pepper, thinly sliced
Boneless, Skinless Chicken Breasts, cut into 1-inch pieces
Gluten Free Chicken Broth or Water
Tamari or Gluten Free Soy Sauce
INSTRUCTIONS
Heat oil in a large skillet or wok over medium high heat. Add the onions and cook, stirring occasionally, for 5 minutes. Add the garlic, ginger, and curry paste, cook, stirring for 1-2 minutes.
Add the broccoli, peppers, chicken, coconut milk, and water, reduce heat to medium and cook until the chicken is cooked through, and the vegetables are almost tender, about 5 minutes. Stir in the spinach, vinegar, and soy sauce, and cook, stirring until the spinach is wilted.
Serve over rice and garnish with basil and chili slices.