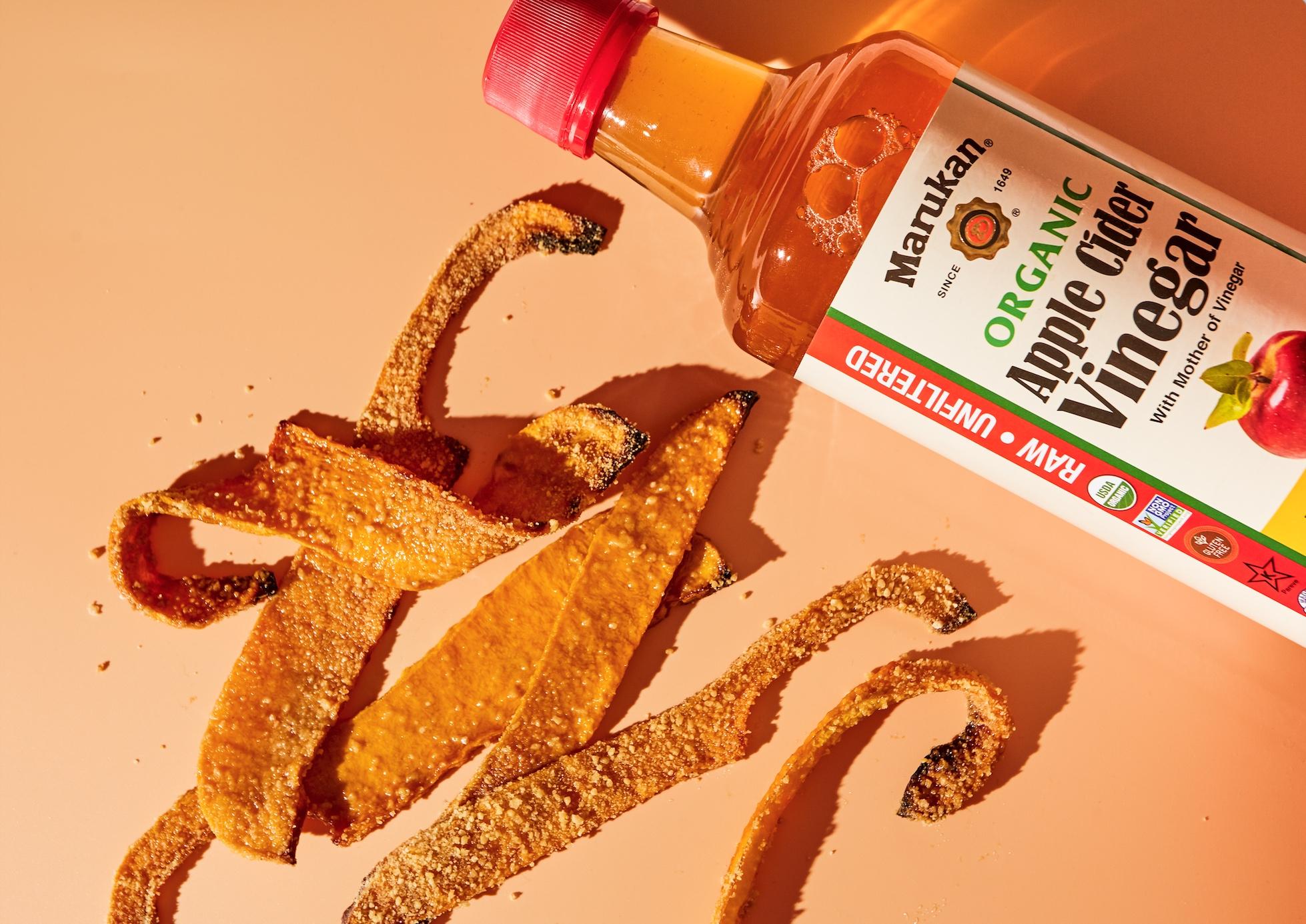 45 minutes OR LESS
Marukan Candied Butternut Squash Sour Belts
This sweet, candied veggie treat is featured in Naturally, Danny Seo Magazine and is perfect for holiday parties or as a tasty homemade gift!
Large Butternut Squash, approximately 4 lbs.
INSTRUCTIONS
Preheat oven to 450ºF.
Peel butternut squash, cut in half lengthwise, and remove seeds.
Use a sharp chef knife to cut long strips approximately ¼-inch thick.
Place strips in a large pan along with apple cider vinegar and sea salt. Not all strips need to be submerged in vinegar.
Bring mixture to a boil over high heat, and cook for 15 minutes, carefully flipping with tongs every few minutes.
Line two baking sheets with a wire rack, placing parchment paper under the rack for easy cleanup.
Remove strips with tongs and arrange in a single layer on racks to cool.
Brush each side of strips with maple syrup.
Bake for 30 minutes, flipping and brushing with additional maple syrup every 10 minutes.
Remove from oven and cool. Serve with maple sugar for dipping. Makes 2 dozen pieces.
GOOD TO KNOW
-Dip 'sour belts' in maple sugar just before eating as the residual moisture will soften the sugar, making it wet after a minute or so.
-If a more subtle vinegar flavor is desired, use Marukan rice vinegar which contains only 4-percent acidity versus apple cider vinegar's 5-percent acidity.
-Line baking sheets with a wire rack increases the heat exposure on each side of the squash strips to help candy them.
Recipe Credit: Naturally, Danny Seo Magazine