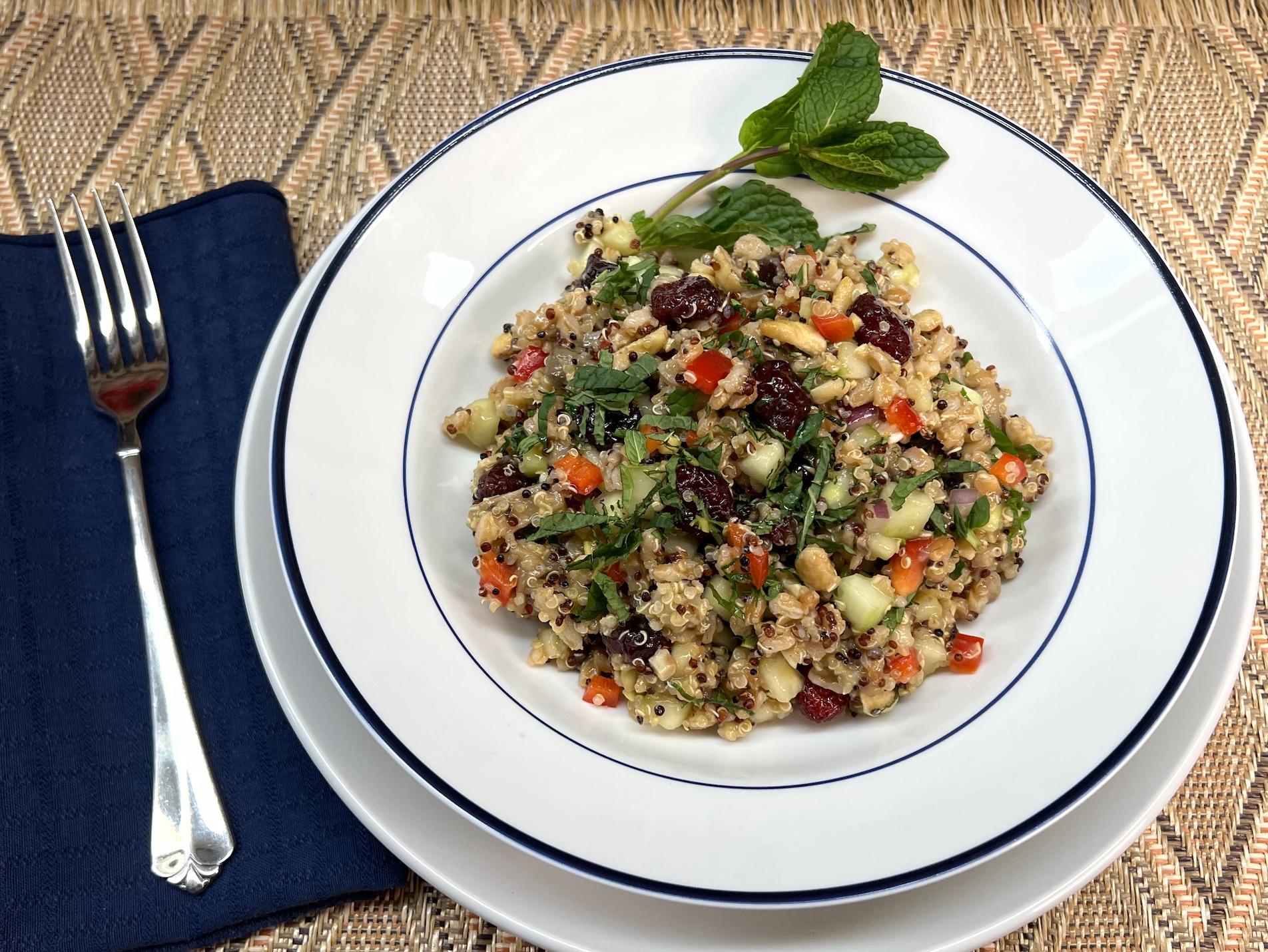 75 minutes OR LESS
Marukan Ancient Grain and Cucumber Salad
A delicious mix of crisp veggies, colorful ancient grains and mushrooms sautéed in Marukan Lite Seasoned Rice Vinegar.
Cucumbers, peeled, de-gelled, diced small
Clove of Garlic, peeled, minced
Red Bell Pepper, diced small
Farro, cooked in vegetable stock
INSTRUCTIONS
Prep and dice cucumbers, ginger, garlic and bell pepper.
Cook farro for 30 minutes in vegetable stock (in a pot) until desired texture and set aside.
Cook quinoa and millet together in rice cooker on "quick" setting for 15 – 20 minutes.
Add white mushrooms to a fry pan cooking, add a pinch of salt. On medium heat add 1 cup of Marukan Lite Seasoned Rice Vinegar and reduce liquid until it is absorbed into mushrooms. Deglaze pan with Marukan Genuine Brewed Rice Vinegar.
Combine cooked farro, quinoa and millet together in a large mixing bowl and cut in 1 cup of Marukan Seasoned Gourmet Rice Vinegar.
Add cooked mushrooms directly from pan to seasoned grain mixture and stir.
Cut in garlic, ginger and mix well.
Stir in remaining fruit, vegetables and cashews and blend well.
Season to taste using sugar and salt.
Drizzle the extra virgin olive oil evenly, blend well and allow to partially cool covered.
Taste again, adding more sugar, salt and pepper if needed.
Mix in ½ of the mint and put in refrigerator overnight or at least two to three hours until fully chilled.
Right before serving blend the other half of mint.
Serve chilled.