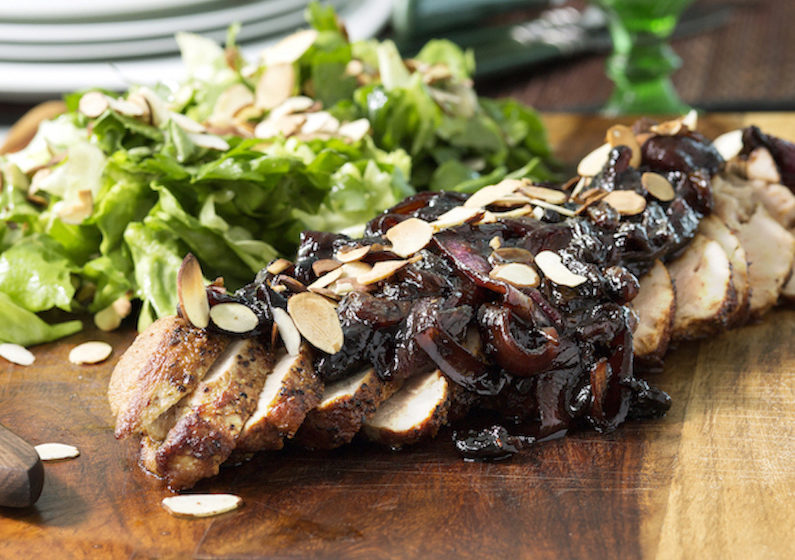 55 minutes OR LESS
Marukan Agrodolce Pork Tenderloin
This recipe is so elegant, so delicious and so simple!
Kosher or Fine Sea Salt, divided
Boston or Red Leaf Lettuce
Italian Flat Leaf Parsley
INSTRUCTIONS
Pat the pork dry with paper towels. Combine 1⁄2 tsp salt, 3⁄4 tsp pepper, and the garlic powder in a small bowl. Sprinkle the mixture over the pork and let sit. Cut the onion in half from root to stem, peel, and cut into 16 wedges (per onion). Heat 2 tbsp oil in a large skillet with a lid over medium-high heat. Add the pork and brown well on all sides, about 2 minutes per side, 6-8 minutes total. Remove the pork from the pan and place on a plate. Add the onions to the skillet with a large pinch of both salt and pepper, and cook, stirring occasionally, until tender and starting to brown, about 5 minutes. Combine 3⁄4 cup rice vinegar with the water, honey, and red pepper flakes and add to the onions once they are browned. Add the raisins and stir. Add the pork back into the skillet, cover, reduce heat to medium, and cook, turning every few minutes, for about 12 minutes. The best way to check for doneness is with an instant-read thermometer. Cook the pork to 140°. Remove from the sauce and let sit for 5-10 minutes. The sauce should be reduced and thickened at this point but if not, cook for a few more minutes. Add the butter and stir until melted.
While the pork is cooking, make the salad. Combine the lettuce and parsley in a bowl. Whisk together 2 tbsp olive oil, 1 tbsp rice vinegar, 1⁄2 tsp salt, 1⁄4 tsp pepper, and 1⁄2 tsp Dijon mustard. Pour over the lettuce and parsley and toss. Slice the pork and cover with the sauce. Sprinkle the almonds over the salad and pork and serve.