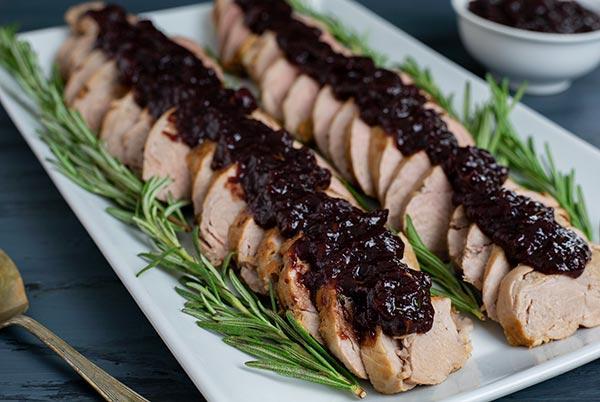 2 hours, 45 minutes OR LESS
Marukan Brined Pork Tenderloins with Cranberry Rosemary Sauce
This pork tenderloin recipe is the perfect entrée for an upcoming holiday or special occasion dinner.
Pork Tenderloins (about 1.5 lbs each)
Whole Berry Cranberry Sauce
INSTRUCTIONS
Combine the water, vinegar, maple syrup, salt, and peppercorns, stirring, until the salt dissolves. Place the pork tenderloins in a large food storage bag, add the brine, and 4 rosemary sprigs. Refrigerate for 2-4 hours. Remove from refrigerator, discard the brine, and dry off the tenderloins.
Preheat the oven to 400°F. Pour oil into a large oven-proof skillet and heat over medium-high heat. Add the tenderloins and sear on all sides, about 5 minutes. Put in the oven and roast for 10-15 minutes or until an instant-read thermometer reaches 140°F (the pork will come up to 145°F as it rests). Transfer the tenderloins to a cutting board and cover loosely with foil. Let rest for 10 minutes.
Place the skillet back on the stove over medium-high heat. Stir in the minced rosemary, cooking until fragrant. Add the wine and cook until reduced by half. Lower the heat to medium-low, add the cranberry sauce, and cook, stirring, until the cranberry sauce has loosened and is more liquified.
Slice the pork and top with the cranberry sauce.