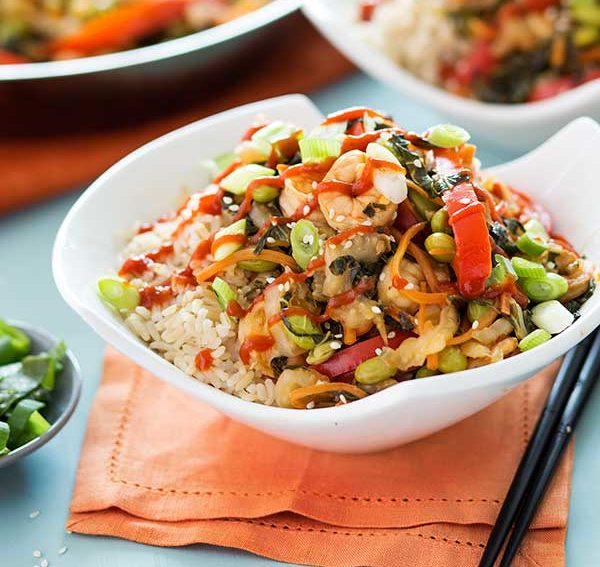 45 minutes OR LESS
Ponzu Ginger Shrimp Stir Fry
Enjoy this savory shrimp recipe made with our delicious Ponzu Premium Soy Dressing with Sudachi Citrus.
Crushed Red Pepper Flakes
Shrimp, peeled and deveined
Red Bell Pepper, seeded, deveined, sliced thin
INSTRUCTIONS
Combine the ponzu sauce, ginger, garlic, and red pepper flakes in a large bowl and whisk to combine. Add the shrimp and let marinate for 10 minutes.
Heat 1 tablespoon of vegetable oil in a large skillet over medium-high heat. Using a slotted spoon, remove half the shrimp from the marinade and put into the hot pan in an even layer. Cook the shrimp for 2 minutes, flip, and cook for another 2 minutes. Remove from the pan and place in a bowl. Add another tablespoon of oil and repeat with the rest of the shrimp.
Pour the marinade into the pan and bring to a boil, scraping the pan. Let boil until the marinade has reduced considerably and has a glaze-like consistency, about 3 minutes. Add the bok choy, bell pepper, carrots, and edamame. Cook, stirring for 2-3 minutes or until the bok choy has wilted and the vegetables are crisp-tender. Add the shrimp back to the pan along with the sesame oil and cook, stirring, until the shrimp are just heated and cooked through.
Garnish with the green onions and sesame seeds. Serve over rice with a drizzle of sriracha, if desired.