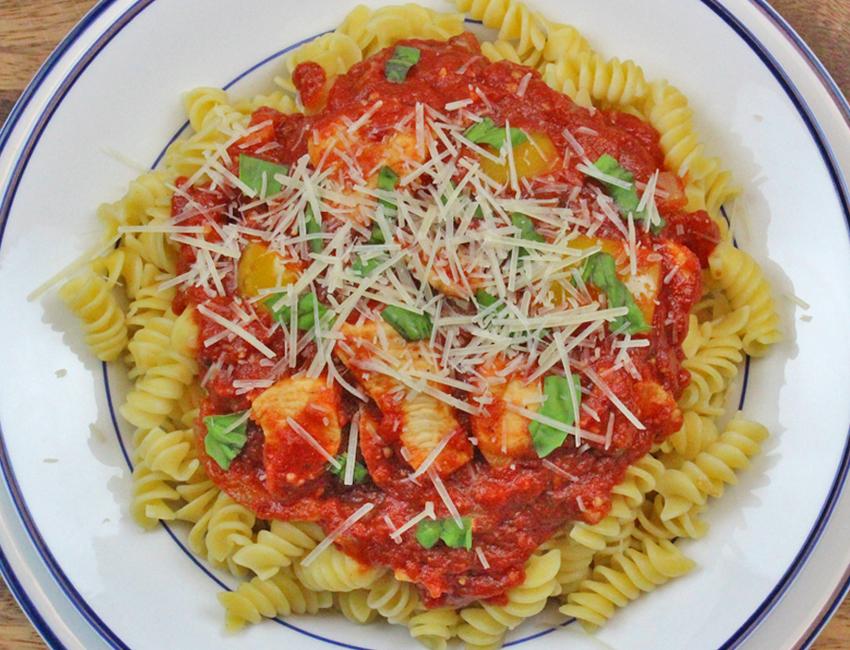 1 hr 30 min OR LESS
Marukan Zesty Marinara Pasta with Chicken
Medium Chicken Breast, cut into cubes
INSTRUCTIONS
For Chicken Marinade:
Add rice vinegar, garlic, salt and pepper to bowl and mix well. Coat cubed chicken with marinade and set aside for at least 30 minutes.
For Sauce:
In a large skillet add crushed tomatoes, tomato sauce, tomato paste, rice vinegar, garlic, dried oregano, red pepper flakes, and salt & pepper. Stir over low heat for at least 30 minutes.
For Pasta:
Cook according to box instructions.
For Cooking of Chicken:
While pasta is cooking and when chicken is done marinating, heat a large skillet to medium/high heat. Add 1 tbsp. of olive oil. Then add the chicken and sauté until golden and cooked through. Once the chicken is ready, set aside.
For Vegetables:
First add 1 Tbsp of olive oil to a large skillet. Then add the garlic, onion, bell pepper and mushrooms. Sautée until crisp and tender.
Finally, add the cooked vegetables and chicken to the sauce and mix together over medium heat for 2 minutes. Then pour the sauce, chicken and vegetables over the cooked pasta. Add parmesan cheese and basil to taste, enjoy!