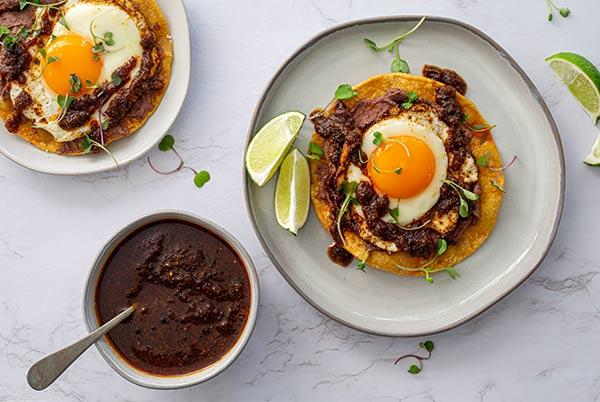 30 minutes OR LESS
Marukan Salsa Macha Breakfast Tostadas
Garlic Cloves, peeled and smashed
Kosher Salt (use 1/2 the amount if using table salt)
Refried Black Beans, heated
INSTRUCTIONS
Salsa Macha:
Using gloves, remove the stems from the chilies. Gently roll the peppers between your hands to remove the seeds.
Heat a skillet over medium-high heat. Add the peanuts, pumpkin seeds, and sesame seeds and toast until fragrant, (about 2 minutes). Transfer to a bowl.
In the same skillet, add ½ cup oil and the garlic, cook until fragrant and lightly browned, (2–3 minutes). Be careful not to burn. Pour the mixture into the bowl with the nuts and seeds.
In the same skillet, add the remaining ½ cup oil and the chilies. Cook until they start to darken, (2–3 minutes).
Put all the ingredients in a blender and blend until smooth. Store in a glass jar in the refrigerator for up to 2 weeks.
Makes about 1 cup
Tostadas:
Pour a thin layer of oil into a skillet and heat over medium-high heat. Fry the tortillas for about 30 seconds per side. Sprinkle with salt. Spread with the beans.
Wipe out the skillet and melt the butter and 1 tablespoon salsa macha over medium heat. Fry the eggs to your liking. Top each tortilla with an egg. Sprinkle with cilantro and serve with lime wedges and more salsa macha.