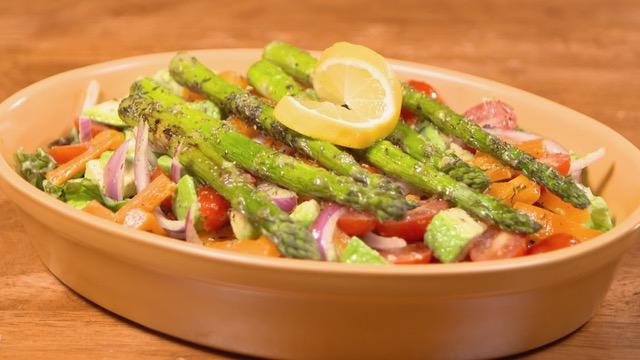 30 minutes OR LESS
Marukan Roasted Asparagus Salad
Fresh Asparagus Spears, trimmed
Grape Tomatoes, sliced in half lengthwise
Large Orange or Yellow Bell Pepper, sliced
Head of Red Lettuce, torn into bite-size pieces
INSTRUCTIONS
For Asparagus:
Preheat oven to 425°
In a large bowl, combine asparagus with olive oil, thyme and lemon zest. Toss gently to coat. Place asparagus on a baking sheet and roast for about 15 minutes, or until tender. Set aside to cool.
For Dressing:
Add olive oil, rice vinegar, garlic, thyme, lemon juice and lemon zest into a small bowl and whisk to mix thoroughly.
For Salad:
In a medium size bowl, toss avocado gently with the lemon juice. Then add the grape tomatoes, bell pepper slices and red onion slices. Pour 1/4 cup of the dressing over the mixture and toss gently. Set aside.
Salad Assembly:
Place red lettuce on the bottom of a bowl. Add avocado mixture and top with roasted asparagus. Drizzle with a little more dressing and serve with extra dressing on the side.
Click here to read our blog post about this delicious recipe!
Nutrition Analysis: 2 cups with dressing
Calories 254 Protein  5g, Carbohydrates  17g, Fiber 0g, Fat 20g, Cholesterol 0mg, Calcium 104mg, Sodium 47mg
For more delicious recipes from Marukan, click here!
Click HERE for a $1.00 off coupon on your favorite Marukan product!