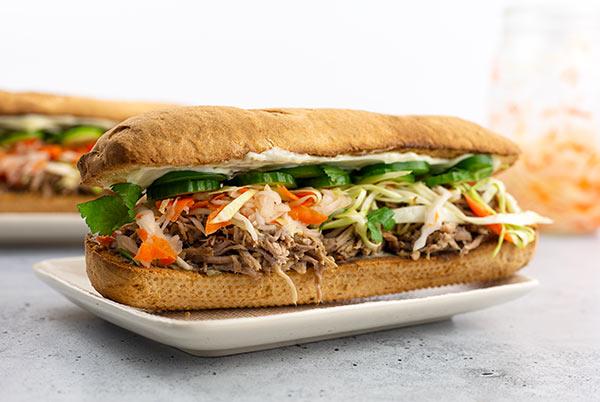 1 hour, 20 minutes OR LESS
Marukan Pulled Pork Banh Mi Sandwich
Black Pepper, freshly ground
Non-Stick Cooking Spray, gluten-free
Tamari or Gluten-Free Soy Sauce
Gluten-Free Baguettes, sliced in half lengthwise and toasted
Mayonnaise or Spicy Mayonnaise
Seedless Cucumber, sliced
Jalapeño Pepper, thinly sliced
Cilantro, coarsely chopped
INSTRUCTIONS
Season the pork shoulder generously with salt and pepper. Spray Instant Pot insert with cooking spray. Add the pork, onion, jalapeño pepper, ½ cup Marukan Organic Seasoned Rice Vinegar, tamari, fish sauce, garlic, and ginger. Pressure cook on high for 60 minutes then let naturally release for 20 minutes. Remove pork from Instant Pot to a bowl and shred with two forks. Heat 1 tablespoon of oil in a large non-stick skillet over medium-high heat. Add the shredded pork and sauté until browned and caramelized on one side. Add a little of the cooking liquid to moisten the meat and deglaze the pan.
While the pork is cooking, make the pickled slaw. Place the cabbage, carrots, and daikon radish in a mason jar. Add ½ cup Marukan Organic Seasoned Rice Vinegar, shake well and let sit while the pork is cooking. Shake the jar occasionally.
Spread the baguettes with mayonnaise. Spread some pâté on the bottom half of the baguette, add pulled pork and then the pickled slaw. Add sliced cucumbers, jalapeño peppers, and cilantro.