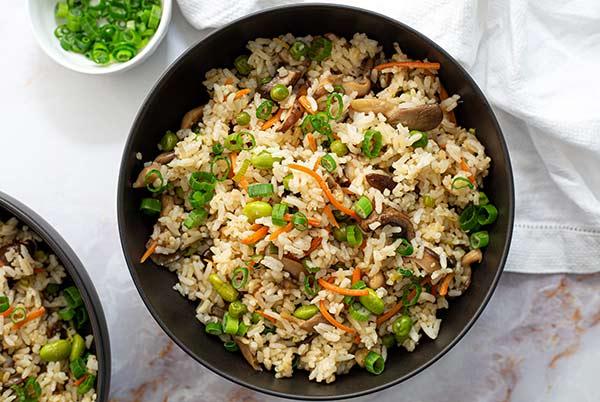 15 minutes OR LESS
Marukan Mushroom Fried Rice
Assorted Mushrooms, cleaned, stemmed and sliced
Green Onions, sliced, white and green parts separated
INSTRUCTIONS
Heat 2 tablespoons oil in a wok over high heat. Add the garlic and ginger and cook, stirring, until fragrant, about 60 seconds.
Add the mushrooms and 3 tablespoons Marukan Ponzu and stir fry for 5 – 7 minutes or until they have released their liquid and are starting to brown. Add the white part of the onions, the carrots, edamame, and peas. Stir fry for 1 – 2 minutes. Remove from the pan and set aside.
Heat remaining tablespoon of oil in wok over high heat. Add the rice, remaining 2 tablespoons of Marukan Ponzu, and vinegar and stir fry for a few minutes until the rice starts to lightly brown. Add the mushroom mixture back into the wok along with half the green parts of the green onions and stir fry for another 1 – 2 minutes. Garnish with the remaining green portion of the onion.