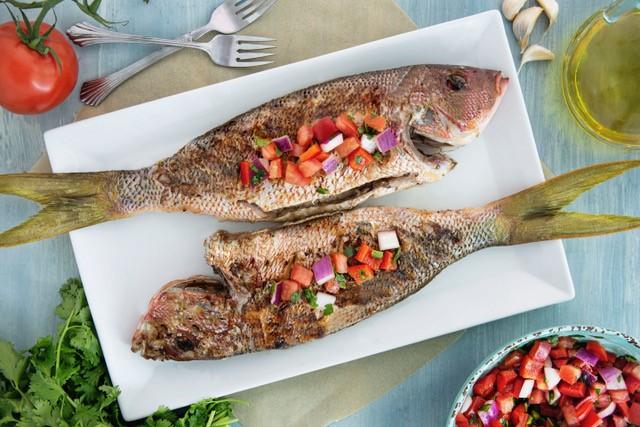 1 hour 20 minutes OR LESS
Marukan Grilled Fish with Brazilian Salsa
Add our Marukan Grilled Fish with Brazilian Salsa to your cook-out rotation!
Ripe Tomato, seeded and diced
Green or Red Bell Pepper, seeded, deveined, and diced
Fresno or Jalapeño Pepper, seeded, deveined, and finely minced
Fresh Cilantro or Italian Parsley, coarsely chopped
Garlic Clove, peeled and thinly sliced
Whole Fish, such as snapper, trout, or branzini or 4 boneless skinless chicken breasts
INSTRUCTIONS
Season the tomatoes with 1 tsp of salt, toss to combine, and transfer to a fine mesh sieve or colander and let sit for 15-20 minutes. Drain and discard any liquid. Combine the tomatoes with the onion, peppers, cilantro, 2 Tbsp Marukan Rice Vinegar, and 1 Tbsp oil. Season to taste with salt and pepper. Let sit at room temperature for 30 minutes or cover and refrigerate for up to 2 days. Let come to room temperature before serving.
Combine the remaining oil with the garlic in a small saucepan. Heat over low heat for 2-3 minutes or until the garlic is barely starting to brown. Remove from the heat and stir in the remaining Marukan Rice Vinegar, ½ tsp salt, and ¼ tsp black pepper. Heat grill to medium heat (about 350°) and brush the grates well with oil.
If making with fish, cut deep slits into each side of the fish, brush with the basting sauce in the cavity and outside on both sides, and place on the grill. Leave the fish on the grill, basting occasionally, until you can easily remove it from the grates with no sticking, about 5 minutes. Flip and grill for another 3-5 minutes, basting occasionally. or until the fish is cooked through and can be easily removed from the grill. Can also be made on a grill pan on top of the stove on medium-high heat.
If making with chicken thighs, brush the chicken with the basting sauce and grill about 5 minutes per side, basting frequently, or until the chicken is cooked through and reaches 165° on an instant meat thermometer. Can also be made on a grill pan on top of the stove on medium-high heat.