The turbulence and unpredictability of a year overshadowed by a global pandemic has led many consumers to incorporate healthier food choices into their diets. Foods perceived to boost immunity, such as those rich in probiotics and antioxidants, are one of the year's biggest trends, according to Food Dive1. This desire for functional foods, combined with a focus on customizing nutrients, make smoothies a popular dietary addition. They're easy to make and great for breakfast-on-the-go, a post-workout energy boost or as a healthier snack alternative.
Smoothies have been around for decades, with the first recipes dating back to the 1930s. They grew in popularity with the introduction of blenders, then really took off as consumers discovered they could customize nutrients by adding fruits, vegetables, juices and raw, unfiltered ingredients like Marukan's Apple Cider Vinegar, valued for their perceived health benefits. The global smoothie market was estimated at $14 billion in 2020 by BusinessWire—a sales trend that's expected to continue for at least the next five years2. Consumers even celebrate National Smoothie Day every June.
A Perfect Intersection
The intersection of the functional smoothie trend and the popularity of apple cider vinegars (ACV) offers retailers an opportunity to meet consumer demand in a unique and enticing way. Consumers value ACV for health benefits such as regulating blood sugar, weight control and improving heart health3. Raw apple-cider vinegar is also rich in natural probiotics and antioxidants4, making it a simple, nutritious addition to many smoothies.
Because of its vibrant, tangy flavor profile, straight ACV can sometimes dominate flavor profiles. Marukan has introduced a unique Apple Cider & Rice Vinegar Drink Blend specifically designed to be a smoother and better-tasting flavor with the added benefits of apple cider vinegar.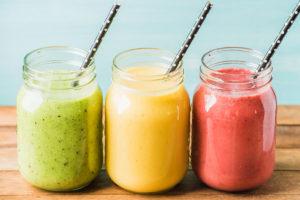 A popular cooking and beverage ingredient, apple cider vinegar is rich in amino acids, valued for boosting immune function. It also promotes digestion and can sooth intestinal irritation5. Packed with Mother of Vinegar, Marukan Organic Apple Cider & Rice Vinegar Drink Blend is non-GMO Project Verified6, Certified Organic7, Kosher8, and naturally gluten and allergen-free. It's manufactured by a global brand that retailers have come to equate with quality and a tradition rich in the highest standards of production. The experts at Marukan bring more than ten generations of expertise to premium vinegar brewing.
Recipes and More
To make it easier to capitalize on the popularity of smoothies, Marukan offers consumer-friendly recipes on its website. Simple to make and even easier to drink, recipes like this Detox Fruit Smoothie made with orange juice; organic yogurt; banana; berries; dates and unflavored collagen are sure to be a hit with your health-conscious consumers.
For additional recipes, visit MarukanACV.com. If you're a retailer interested in adding Marukan's Organic Apple Cider Vinegars or the new Apple Cider & Rice Vinegar Drink Blend submit your request here.
5 Trends Fueling Food and Beverage Innovation in 2021; Lillianna Byington, Christopher Doering and Megan Poinski; Food Dive, January 2021
Global Smoothies Market (2021 to 2026) – Industry Trends, Share, Size, Growth, Opportunity, and Forecasts; com, April 2021
Top 5 Health Benefits of Apple Cider Vinegar, Darlena Cunha, EcoWatch, July 2021
Exploring the health Benefits of Apple Cider Vinegar, Beth Czerwony, SM, RD, CSOWM, LD; Nutrition, April 30, 2021
6 Incredible Benefits of Rice Vinegar, John Staughton, BASc, BFA; Organic Facts, July 2020
Non-GMO Project Verified, 11/18/2020
Certified Organic by Oregon Tilth under USDA Organic Regulations 8150001232, 8/6/2002
Star-K Kosher Certified, 2/18/2020