Consumers increasingly seek foods that offer perceived health benefits. Research from Archer Daniels Midland last year showed 77 percent of consumers want to be more proactive in staying healthy in the future1. Non-GMO foods are one way that leading manufacturers, like Marukan, are helping retailers and restaurants meet this consumer need. Because they contain no genetically engineered ingredients, non-GMO foods radiate a healthier food halo. But it wasn't always that way.
In past generations, convenience ruled as dual-income families and single parents demanded carryout and home-meal-replacements. Health-conscious diets were seen as "on the fringe," not to mention more expensive. Consumers had to ask themselves if healthier options could deliver on flavor, the trump card of valued food attributes. And the answer was often, "no." It's difficult to sell convenience and health if food doesn't taste good.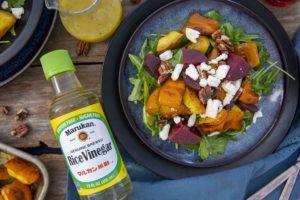 Healthy Moves Mainstream
As the Millennial generation began to take hold and demonstrate its retail clout, they gravitated toward companies, like Marukan, that delivered transparency, cleaner labels and functional benefits that supported healthier lifestyles while delivering on taste. With these attributes in place, healthy eating shifted solidly mainstream. This has been magnified by the emergence of COVID. A full year-and-a-half into the pandemic, the focus on diet and other ways to improve health is hitting home, literally, as visits to gyms became complicated or impossible and restaurants face capacity limits and supply chain shortages. This shift to cooking more at home has been facilitated by the plethora of recipes and cooking videos available online.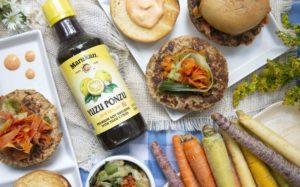 Authenticity Is Just As Important
Authenticity and transparency are also key food-choice drivers for Millennials and Generation Z. They expect companies to act with integrity when it comes to food. With so many rushing to take advantage, consumers find reassurance in brands that have made non-GMO practices an inherent part of business—not because of a desire to be on-trend, but because it's the right thing to do.
Marukan resonates with consumers because of its centuries-old focus on quality and product integrity. It began with premium rice vinegar, made from the world's smoothest and finest, slow-brewed sake. Rice vinegars were lighter with a more balanced flavor and their popularity continued to soar as they moved to the U.S. Here they were commonly used by home cooks as well as professional chefs to balance the acidity and enhance the flavor of many of the most popular foods consumed today.

Meeting Consumer Demand For Non-GMO Products
Marukan has always paid strict attention to quality control and monitored production facilities. Its products, which include rice vinegar, ponzu and apple cider vinegar, have earned the trust of consumers and chefs alike for core beliefs such as the use of non-GMO ingredients. All of the Marukan products are certified by the Non-GMO Project, a nonprofit committed to preserving and building sources of non-GMO products while educating consumers on where to find them.
For home cooks, retailers, and professional chefs, Marukan offers a wide range of Non-GMO Project Verified, Gluten-Free, and Vegan Certified Rice Vinegars, Ponzu Sauces and Apple Cider Vinegars. These offerings answer the need for foods that fuel healthier diets and are a way retailers and operators can demonstrate to customers that they are heard. Quality and transparency in labeling matters and brands are expected to follow the highest standards of quality assurance.
To learn more about Marukan's full line of non-GMO products and how they can benefit retail and foodservice operations, visit our Marukan Products and Foodservice pages on our website. For a deeper exploration of the benefits of non-GMO products and their consumer appeal, visit nongmoproject.org.
1Consumer Trends Shifting Toward Health and Wellness, ADM Finds; Megan Poinski, FoodDive, September 3, 2020