Next Generation Manufacturing invited Marukan and other food production and manufacturing companies to the Flavors of Georgia culinary event hosted by Big Green Egg in Atlanta.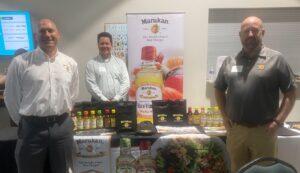 This event highlighted local foods that were included in recipes created by the Big Green Egg Culinary Center and cooked on the EGG to be enjoyed by the event attendees. Marukan vinegar was used to make the rice for a tasty and unique Sirloin Nigiri.
Marukan produces a premium line of rice vinegar products that are Non-GMO Verified, Vegan Certified, Star K Kosher and naturally gluten free at our 77,000 square-foot, state-of-the-art brewery in Griffin, Georgia.
To learn more about Marukan Rice Vinegar, visit our products section here.