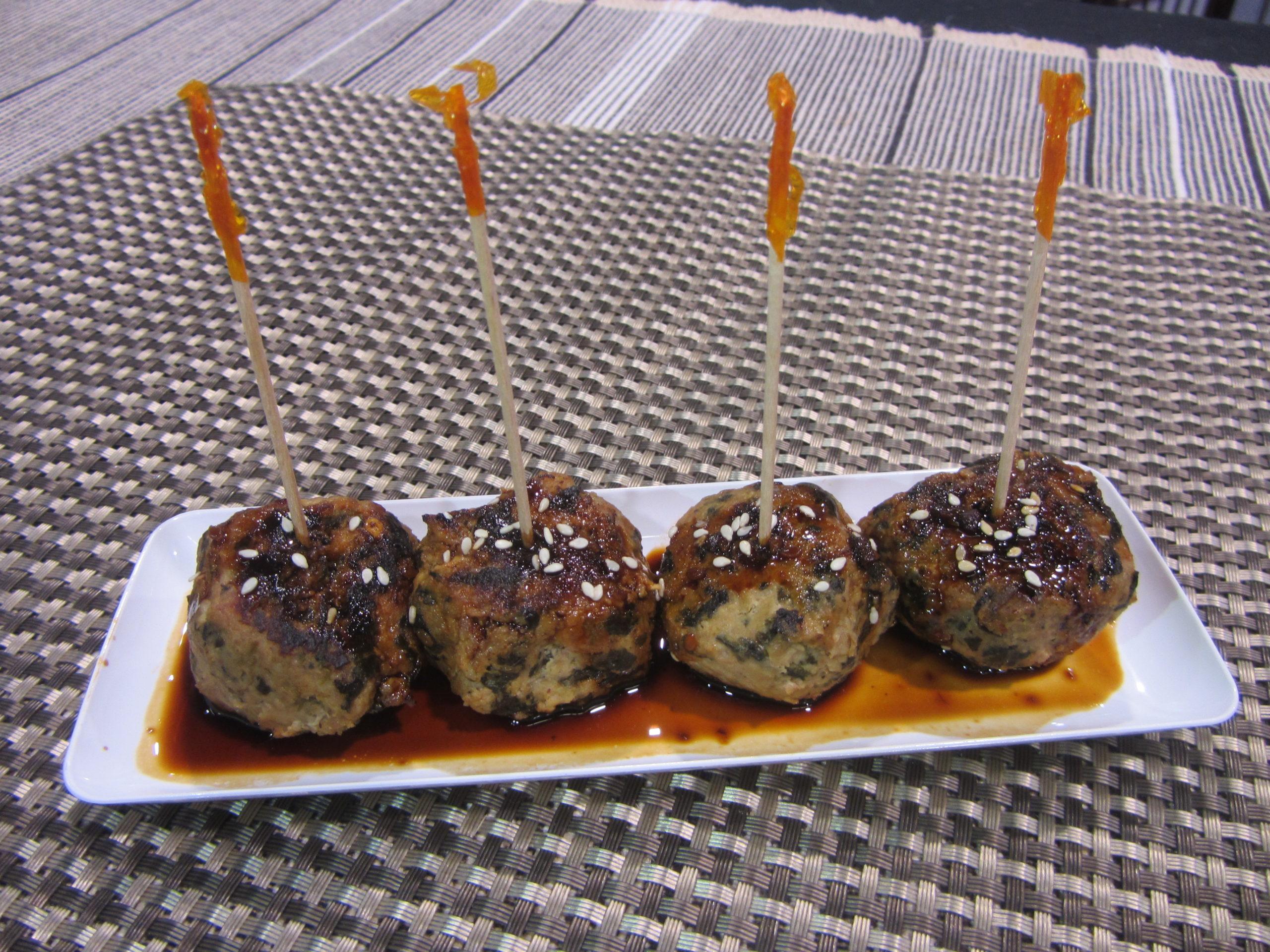 45 minutes OR LESS
Marukan Teriyaki and Turkey Spinach Meatballs
INSTRUCTIONS
First step: Make sure ground turkey has been defrosted properly if purchased frozen. Also make sure to defrost frozen chopped spinach and squeeze out the excess water from the spinach.
Second step: Chop the onion and minced the garlic. In a frying pan, heat it with the olive oil in the pan. Once hot add the chopped onions, minced garlic, salt, ground pepper, dry thyme leaves, dry oregano, and red pepper flakes. Mix these ingredients for five minutes.
Third step: Add spinach, Worcestershire sauce, turkey broth, and Marukan Seasoned Gourmet Vinegar to the pan with the onion mixture. Continue to mix all these ingredients until you see most of the liquid has evaporated.
Fourth step: Let the spinach mixture cool once most of the liquid has evaporated. Heat the oven to 400 degrees F. In a large baking sheet place aluminum foil on the top and spray cooking oil to prevent meatballs from sticking.
Fifth step: In a large bowl mix ground turkey, eggs, bread crumbs, and cool spinach mixture with hands or spoon if preferable.
Sixth step: Make individual meatballs with your hands. If you make each meatball between 1-1½ inches in dimeter you will end up with about 40 individual meatballs. If to many you can save the raw turkey mixture in the freezer for future usage.
Seventh step: Add the meatballs on the pan with aluminum foil and cooking spray. Leave space for each meatball to prevent sticking with one another. Bake for about 20 minutes or until the internal temperature hits 160 degrees F.  Note: when checking the temperature of the meatballs check the meatball in the middle of the tray because that meatball will assure you that all the other meatballs are about that temperature as well.
Eighth step: For a great appetizer serve the turkey meatballs with teriyaki sauce and skewers