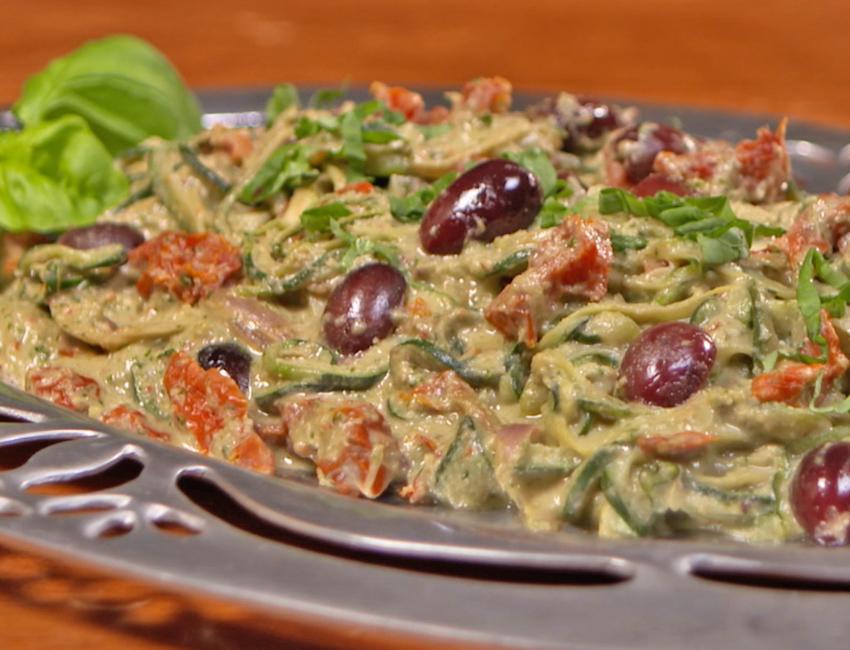 35 min OR LESS
Marukan Zoodles with Avocado Pesto
Sun Dried Tomatoes, julienne cut
Coarsely chopped fresh basil leaves, packed
Grated Vegan Parmesan Cheese
Sun Dried Tomato Soaking Liquid
Medium Zucchinis, spiralized
Medium Onion, thinly sliced (about 1 cup)
Kalamata Olives, whole or sliced
Sun Dried Tomatoes, reconstituted
INSTRUCTIONS
Place the sliced sun dried tomatoes in the boiling water and set aside. In food processor or blender, pulse walnuts to a coarse meal. Add garlic, avocado, basil, parmesan, vinegar and juice; pulse to combine. With machine running, add the olive oil and soaking liquid gradually, adjusting until desired consistency is reached. Set aside.
Spiralize the zucchinis and set aside. In a frying pan or saucepan, heat olive oil over medium high heat. Add onions and cook for about 3 minutes or until softened. Reduce heat to low, add zoodles and sauté mixture for about 3 minutes, stirring frequently. Remove pan from heat and fold in the pesto, olives and sun dried tomatoes. Serve and enjoy!
Click here to read our blog post about this delicious recipe!
Nutrition Analysis: 1 1/2 cups
Calories 270 Protein  10g, Carbohydrates  22g, Fiber 0g, Fat 18g, Cholesterol 0mg, Calcium 131mg, Sodium 512mg
For more delicious recipes from Marukan, click here! 
Click HERE for a $1.00 off coupon on your favorite Marukan product!